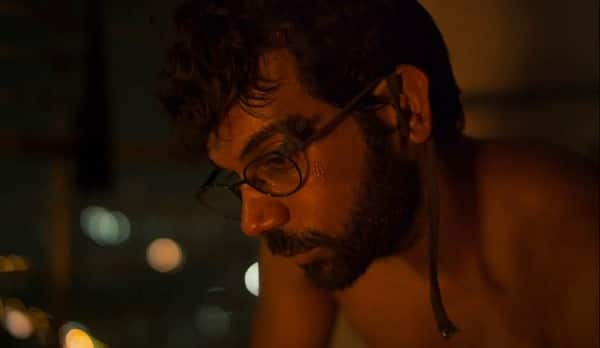 Rajkummar Rao's Trapped hit the screens last Friday and since then, it has been running successfully at the box office. The movie has received a lot of praise from the audience as well as the critics, especially for Rajkummar Rao's fantastic performance. For those of you don't know, Rajkummar plays the role of Shaurya, who gets locked inside his own house in a deserted building in Mumbai. His desperate attempts to survive and escape from the house forms the rest of the story. While the movie has a lot of graphic images, it got an U/A certificate with a few scenes being chopped.
We got hold of one such deleted scene where Rajkummar is speaking to a rat in the house. While eating a pigeon, the actor speaks to the rat and explains what is the similarity between a man and a mouse. He mentions that, "Both run after holes." While many of you will agree with this statement and laugh, the CBFC did not feel it was appropriate and hence, they told the makers to chop it. Check out the deleted scene from Trapped right here:
At the box office, Trapped has collected Rs 1.44 crore in three days. While many would argue that this isn't such a huge number, considering that it just got 300 screens, the movie has done well. The critics have also praised the movie. Our reviewer, Sreeju Sudhakaran mentioned in his review, "Trapped is a unique and engaging thriller, bolstered by a fine performance by Rajkummar Rao. It might not appeal to frontbenchers with a taste of commercial cinema, but for those who want something different from Bollywood, Trapped is recommended watch for you, albeit a bold and uneasy one." Renowned film critic, Rajeev Masand, also mentioned in his review, "Despite its occasional shortcomings, Trapped is a wholly involving drama that you become quickly invested in. The bulk of the credit for that goes to the film's incredible leading man who delivers his finest work here." ALSO READ – This is what Rajkummar Rao would do if he is TRAPPED with Kangana Ranaut and Karan Johar – watch video
Have you watched Trapped? If yes, share with us your thoughts about it in the comments section below!