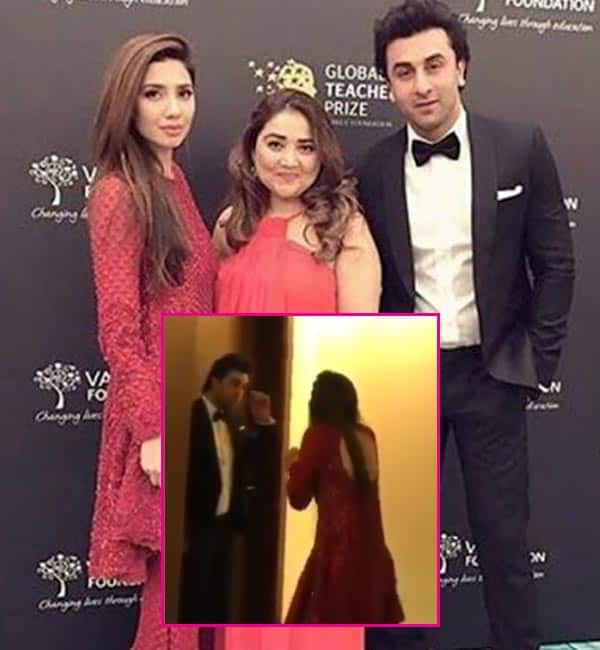 So Ranbir Kapoor and Mahira Khan are having a gala time in Dubai right now at the Global Teacher Prize event. Yes, you read right. We did say Mahira and Ranbir. They have assembled there for an important event. We have a few videos of the evening which are damn interesting. One of them has Mahira and Ranbir greeting others behind the stage. But what caught our attention was one footage shared by the actor's fan club which has the Raees actress talking to Ranbir animatedly. In fact, at one point she even has her hands clasped together like when you do while praying and talking to him. It looked as if she is pleading!
What is even more interesting is Ranbir's expression. Mahira's excited gesture seemed to have made this actor recoil a bit. May be he is trying to understand what the actress conveying so earnestly. Whatever it is these two are discussing, this video made us get all kinds of ideas. Is Mahira talking about the ban on Pakistani artistes in India? Is she discussing a future project with him? Phew…our imagination is running wild. While we try to figure that out, you check out the video right here.
We can totally imagine your expression after watching this because trust us we are feeling the same. Here's one more…
To cool it off, here's another video of them together.
Ranbir is sporting his Sanjay Dutt look for the biopic and frankly speaking, it's so unusual to see the Ae Dil Hai Mushkil actor looking so bulky. He always had a lean frame and this sudden muscle gain will take some time for us to get used to. That's the problem with method actors. They would go to any lengths to look the part. Look what Aamir Khan did for Dangal. Anyway, we hope his efforts pay off.
Next time we meet Ranbir, we will definitely ask what was Mahira telling him, because we are damn curious. Don't lie, you too are. Can you guess what she is saying here?