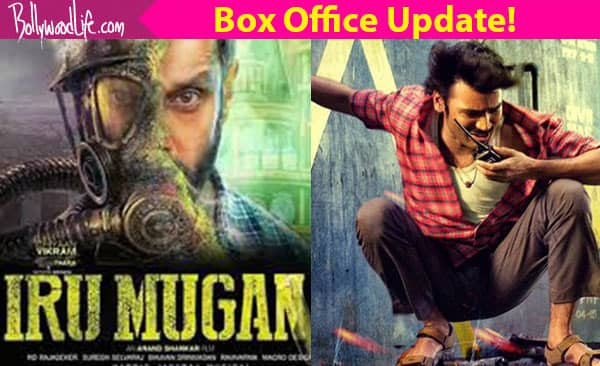 Dhanush's much awaited Thodari hit theatres yesterday. The movie also stars Keerthy Suresh. It's an adventurous train ride from Delhi to Chennai that has elements of love, action and comedy.  This intriguing movie is directed by Prabhu Solomon. So how has the journey been so far for this film  in terms of BO collection? According to reports, the movie has collected Rs 4.32 crores in Tamil Nadu. Looks like Vikram's Iru Mugan beat Thodari  as it collected Rs 5. 25 crore on its first day. Also, the word of mouth around this movie has been mixed. While everyone has liked the unique train set up, the script hasn't been appreciated as such. But everyone has loved Keerthy's act in the movie.  Also Read: 5 reasons we are super excited about Dhanush's Thodari!
Now even though Vikram's Iru Mugan has beat Dhanush's Thodari, one must keep in mind two things, the movie didn't release in Karnataka because of the Cauvery dispute. So that definitely affected the movie's collections. Additionally, the weather conditions in Andhra Pradesh delayed the release there. So, Variable factors went against the movie's release, and that could explain the average collection on its first day. But for all you know, the collections could pick in the opening weekend, just Like Iru Mugans' collections saw a major spike in the four day weekend. It went on to collect around Rs 50 crore by the end of the first weekend. Also, so now we are yet to see if Dhanush's Thodari will pick up and go on to mint monies at the box office. Because from what Dhanush mentioned in his tweet yesterday, he has received positive reviews. So let's see if the positive review overpower the mixed reactions and help build on the box office collections in the next 10 days.
For all those who don't know, Vetrimaaran's Visaranai is India's official entry for the Oscars 2017! It was chosen among 29 contenders. The movie is based on a novel Lock up, where the writer narrates of his harsh incident – He was in lock up for 13 days and was tortured for a crime he didn't commit. The Visaranai team is extremely happy over this big news but they know they know they have lot of preparation ahead of them. Also Read: Dhanush is elated over Visaranai's entry to the Oscars-check tweet!