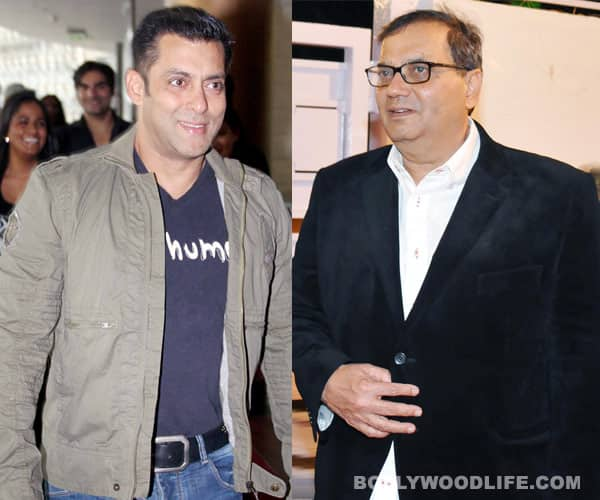 Ghai in a recent interview said that will soon be teaming up with the Bhai of Bollywood for a film. Now that would be interesting, if it happens at all. While the filmmaker seems confident wethinks Khan won't work with him again. Read on to know why we say so…
Salman Khan and Subhash Ghai worked together five years ago and their collaboration was expected to create fireworks at the box office. But sadly that didn't happen and Yuvvraaj bombed at the BO. As per the Taal director's latest statement, the duo is once again gearing up to join hands for a film. While talking to a leading daily, Ghai said, "I am very keen on working with Salman and we are discussing about more films and projects in the future. I will soon be directing him as well." We know the Subhash Ghai is really looking forward to working with Sallu miyaan but that ain't going happen and here's why:
First of all, the Mukta Arts head honcho's comeback film Kaanchi has failed miserably at the box office and going by the reviews it's quite clear that Ghai has lost his charm. Yes, he is known as the showman of Hindi cinema but that doesn't hold true anymore. If you don't believe us, go watch Kaanchi: The Unbreakable right away!
Yes, Salman is a crowd puller and gets cash registers jingling at the box office. From Wanted to Dabangg 2, all his films managed to rake in big moolah. However, his last release Jai Ho didn't create the same impact. So we are sure SK won't risk working with Ghai as he needs a hit under belt. And going by Karz director's recent track record wethinks it will be long before Subhash Ghai delivers a hit. Ideally, the filmmaker should give up directing coz after Kaanchi even a newbie would think a zillion times before working the actor-turned-director.
Lastly, we all remember what happened last time when Ghai and Salman came together. Even if you don't, we are pretty sure the Being Human star will never forget or should we say he cannot afford to forget. After all, Yuvvraaj turned out to be nothing less than a catastrophe , no? Need we say anything more?