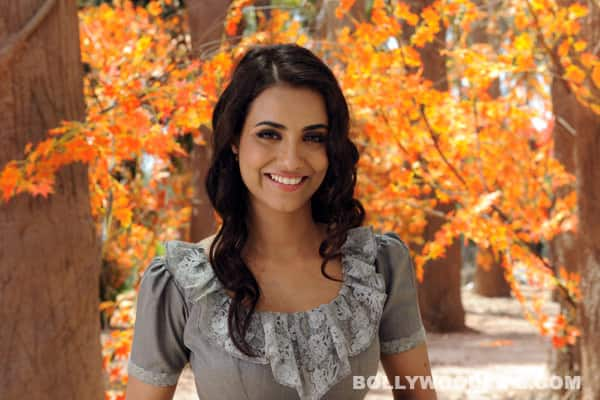 Possession is back, as the banners of 1920: Evil Returns promise. Guess that makes it a perfect time to chat with the possessed woman of the Bhatt camp. And here's what she has to say….
Tia Bajpai rattles off in a happy tone as she speaks about her extended family in Lucknow, her ten dogs whom she misses most of all and how Mumbai is just like any other city. "Here toh I get everything I used to get in my hometown. In Lucknow we call the kiraane ki dukaan (grocery shop) Lala ki dukaan; even here there's a Lala ki dukaan," she says with a smile.
But this girl, who is happily reminiscing about her hometown and pets, wasn't always called Tia. People close to her still know her as Twinkle. When the dreamy eyed Twinkle first set foot in the Bhatt camp, Vikram Bhatt decided to rename her Tia. And since then, the name's stuck.
We understand that Twinkle has developed a liking for her new name, but the horror genre? Is she hooked to that too? "You can say I have started liking horror because it's not monotonous to perform. In the first movie (Haunted) I played the victim; here I am the ghost, the possessed woman," she explains, "I didn't have to bother about looking good."
But as writer-producer Vikram Bhatt said: "people come to the industry to look good," so didn't Tia want that too? "I don't want to be presented as a star who looks beautiful in nice clothes. I want to be known for my acting. I want to be 'that' kind of an actor."
So what did she do to get under the skin of a possessed woman in 1920: Evil Returns? "I took a couple of weeks to start believing that am evil," Tia explains, "You see, it's my personal belief that unless and until I believe in the role, the audience won't." Yes, we agree. "But it was very difficult for me, because I am actually not like that. I was a very happy-go-lucky person. And here I had to be mean," she smiles.
How did Tia do it then? "I switched off my phone. I was cut off from all my family and friends just for this character, because I wanted it to be bad. I had worked very hard on it. I would go home, not talk to anyone, just shut the door and be by myself," she revealed. And did she spend hours together watching scary sitcoms and horror movies? "I am a big fan of The Vampire Diaries. I practically live with it. I usually watch many horror movies. I didn't have to specially watch anything for this movie." Ah! And we guess it worked. Tia did become the evil.
But what about the stunts? How did she prepare for that? "There were no body doubles used. All the action sequences that you see in the movie – I have done them myself," she says with a proud glint in her eye. "It was difficult, but it was fun. I was bashed up in the last movie; I bashed up everyone this time."
And she also spooked people on the sets. "I love singing." Tia lent her voice to the songs of Haunted and Lanka. "And even in the ghastly get-up I would sit in one corner and sing. It would spook out Aftab Shivdasani, who went around telling people to shut me up," Tia said, stifling a giggle.
So isn't she singing for this one? "No, my voice doesn't suite the role. Moreover, the ghost isn't supposed to sing any songs here." Point noted.
In the end, just because of Tia's association with evil, we ask, "Do you believe in ghosts?"
"Yes I do. Everyone can't go to heaven; some go to hell and some stay back. But I wouldn't want to encounter them," Tia signs off.