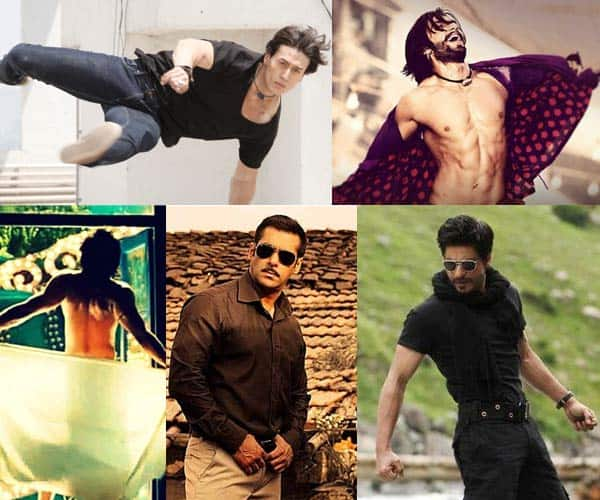 skip advertisement
Jackie Shroff's good looking son Tiger has made his debut with Heropanti. His excellent lineage, sculpted bod and chiselled facial features make Tiger the conventional hero material. With his high-flying kicks and acrobatic moves Tiger unleashed his 'heropanti' on the big screen, and that made us wonder how our successful cinematic idols have been flaunting their 'hero' image, all these years, to have us seduced!
Bollywood is replete with stories of unconventional-looking men who broke into the world of movies in search of that elusive trophy called 'success'. While some made it big by cashing in on good looks or swift action moves, some others, in spite of their obvious limitations in the looks department, soared to starry heights.
As Tiger Shroff made his movie debut by showcasing his 'heropanti' that made us think how did the other big wigs flaunt their popular hero in their unique styles on the big screen. What exactly worked in their favour that made them emerge as big Bollywood heroes?
Shahrukh Khan: The self-made-man, in the truest sense of the word, that he is, SRK reached dizzying heights of success and achieved unparalleled stardom with both his on as well as off -screen persona. Highly unconventional with his looks, Shahrukh used his wit, charm and articulation to amazing effects. Think of romance and the first image that pops into your filmi mind is that of SRK, spreading his arm wide open to woo his onscreen lady love!
Ranbir Kapoor: As if his bandwidth of acting is not enough to impress us, Ranbir knows how to work the magic of his boyish charm to make ladies swoon over him. No wonder boys want to be just like him and gals want to be with him!
 Salman Khan: Very few stars employed irreverence, charm and anger to become the most in-demand star of our times the way Salman did. Bhai's transition from a lover boy to the new-age-angry-man made him the demigod of the silver screen. Blame it on his charismatic personality or his tendency to take his shirt off at every possible opportunity offered, the Bigg Boss 7 host became the golden goose of B-town even by wiggling his belt, shirt ka collar and even back-pockets of his pants!
Akshay Kumar: Akki's histrionics, his spot-on comic timing and above all, his impossible-to-replicate action moves have made even the man with the Midas touch Salman Khan sit up and take notice. Well, Salman did not maintain that Akki is the only star who has truly evolved for nothing. The Khiladi Kumar first built a fan base by creating a position where only he could fit in, and with every passing year he raised the bar with his acting chops and terrific timing!
Hrithik Roshan: He became an overnight sensation with his effortless dance moves and Greek God personality. The Roshan lad kept surprising us with his super valiant image of India's true super hero-both as a megastar as well as an artist!
Aamir Khan: The original chocolate boy of our times grew from strength to strength to transform himself into the true intelligent and keenly intellectual megastar. So versatile is his performance and so dedicated is Aamir to his craft that he rightly deserves the title Mr Perfectionist. The 48-year-old knows to how to blend a star within him with a performer who is always hunting for something hatke!
Ranveer Singh: Considered the live-wire of infectious energy Ranveer used his haughty attitude and carefree (if not exactly precariously careless) personality to send his female fans into a frenzy!