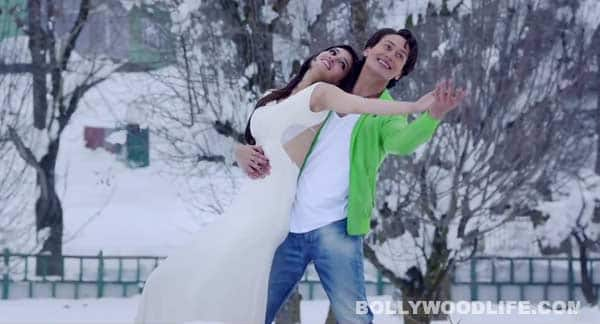 Here's the handsome beta of Jackie Shroff day-dreaming with his onscreen lady love of Heropanti. While Tiger is conveniently watching that dream unfold the Heropanti unit is suffering a torture of a lifetime!
In the cinematic world everything is rosy, snowy and beautiful. The snow clad mountains, a heroine serenading around the pine trees in chiffon and our hero showcasing his romantic side by lip-syncing a mushy line or two to woo the love of his life. Ok enough of surreal experience…snap to reality and you will know what exactly goes behind the camera to capture that dreamy sequence on colloid!
Here's Tiger Shroff shooting for Raabta number with Kriti Sannon for his upcoming movie Heropanti. In the freezing temperatures where your face will experience tautness and go wooden, thanks to the unbelievable cold, Tiger is seen giving some really charming expressions while the lady in questions is seen serenading in and out of the frame even when her lip gloss is frozen to a mass of pink solid.
What works best in these conditions to stay warm-and alive-is the deadly combination of black coffee and brandy. Watch the making of this number and you will know being a romantic couple for the cameras is not always easy!