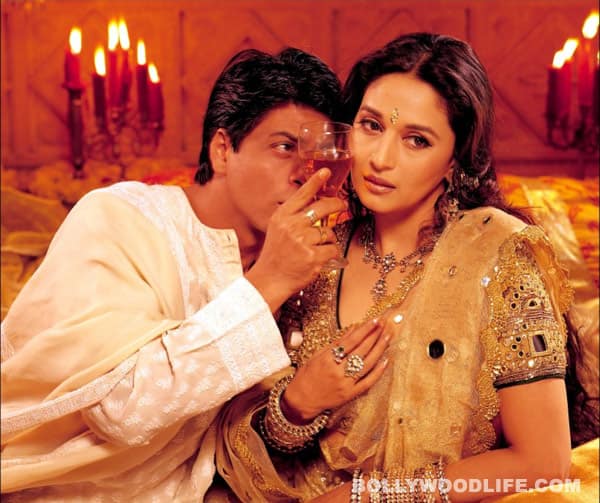 Time magazine claims that the only Indian film to make it to the list is better than Oscar-winner The Artist
Time magazine has included Sanjay Leela Bhansali's 2002 film Devdas, starring Shahrukh Khan, Aishwarya Rai Bachchan and Madhuri Dixit Nene, in its list of the millennium's top 10 movies. Devdas ranked eighth on the list with WALL.E at the top and The Artist in the tenth spot.
"A year after Moulin Rouge! had its world premiere at Cannes, another visually intoxicating musical opened at the festival, introducing sang-and-danced Bollywood dramas to the international culturati," it said of the film. "Sarat Chandra Chattopadhyay's 1901 novel inspired at least a half-dozen film versions before this one – in its time, the priciest movie in Indian history (at about USD 10.6 million)," the prestigious US news magazine noted.
Time describes Shahrukh Khan as an "all-world charismatist" and Madhuri Dixit, as "a hot number who had danced flamenco on men's libidos for a decade or so before appearing in this worldly-wise role" of a prostitute. "The piece is played with such commitment that the tritest plot twists seem worth believing – and dancing to, in nine nifty production numbers. But the fervid emotion is what makes the thing sing," it said. "Beyond that, Devdas is a visual ravishment, with sumptuous sets, fabulous frocks and beautiful people to fill them; it has a grandeur the old Hollywood moguls would have loved," Time gushes.
We love Devdas but it does seem strange that the magazine has ranked it above The Artist.
The top 10 films made since the year 2000:
1. WALL.E, 2008
2. The Lord of the Rings, 2001-03
3. Avatar, 2009
4. Crouching Tiger, Hidden Dragon, 2000
5. The White Ribbon, 2009
6. The Hurt Locker, 2009
7. Synecdoche, New York, 2008
8. Devdas, 2002
9. Moulin Rouge!, 2001
10. The Artist, 2011.