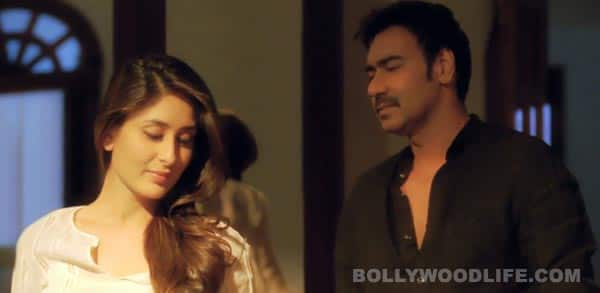 The two look inseparable in the romantic number from Satyagraha and the music is soulful, but what is the song about
Satyagraha's Raske Bhare Tore Naina is a beautiful track, soothing to the ears of any person who enjoys romantic music. Since the Ajay Devgn-Kareena Kapoor starrer is a political thriller, this emotional track was quite unexpected! So, what is this passionate number all about? Watching Kareena and Ajay, who can't take their eyes off each other and the sensuous number playing in the backdrop, the mood's getting too serious. Well, let's cheer it up a little with the English translation of  Raske Bhare Tore Naina… Read and have fun!
Ras ke bhare tore nain saanwariya
Ras ke bhare tore nain..
Your eyes are full of juice, O beloved
Your eyes are full of juice.
Tohri khaatir sej sajaayi
Khushboo phulwaa-phulwaa..
Ang ang more gandh tihaaree
For you, I have decorated this bed,
Fragrance in flower, flower
My entire body is fragrant with your smell
Hui suhaagan rain saawariya..
Hui suhaagan rain..
The night has become a newly-wed, O my beloved
The night has become a newly wed
Well, obviously we don't get the same romantic feel with the English translation, no?