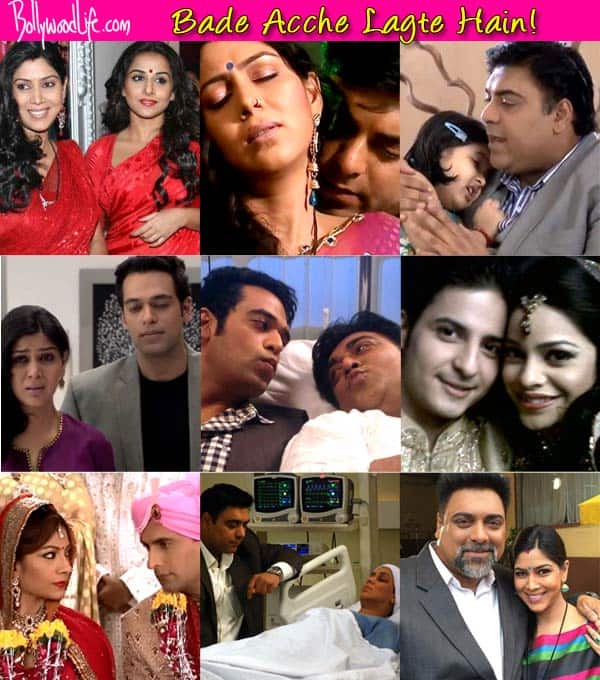 After three years, the popular love story on Sony TV is finally coming to an end today
Ekta Kapoor's Bade Acche Lagte Hain will air its last episode tonight. We've loved, hated and over a time got bored of the show. However, we can't deny that the daily soap had a novel concept when it started and was indeed a delight to watch.
After three years, BollywoodLife walks down memory lane to remember some of the most amazing sequences that we personally loved on the show.
Vidya Balan's Dirty Picture dance with Priya
The Bobby Jasoos actor was on the show promote The Dirty Picture. Ram, who is a big Vidya Balan fan, mistaked his wife for Vidya. To teach him a lesson, Priya grooved to the song Chutki jo tune kaati hai from the movie. Ram got super excited seeing his wife's never before seen avatar.
Ram and Priya consummate their marriage
This day went down in history, 'coz it was the first time a consummation scene was shot this extensively. While it was awkward to see the portly Ram Kapoor go all coy with his wife; we made it through the end of the show squirming in our seats.
Ram meets Pihu for the first time
Priya was in Dubai with her five year old daughter. He accidentally met Pihu for the first time and immediately fell in love with her. Unknowingly, the father–daughter met and shared a bond, which was rather beautiful to see.
Rajat Kapur's confession
When Rajat Kapur realised that he was in love with Priya, he also discovered that she was his best friend's wife. However, in a life and death situation, Rajat publicly confessed his love for Priya putting everyone in a very awkward situation. But we simply loved the sequence.
Vikram and Neha get married again
Every time Ram and Priya fought, Vikram and Neha brought them back together. This time the tables turned and the Kapoor couple was seen bringing the Shergills together. It was a very cute sequence when the Vikram and Neha got married again.
Priya's parents support Natasha instead of Kartik
Priya and Kartik's parents Sudhir and Shipra Sharma decided to support their daughter-in-law when they realised that their son had cheated on his wife and started a new family away from her. They treated Natasha like their own daughter- which was quite impressive.
Priya wakes up from coma
Priya went into coma after her car accident. For eight years Ram waited for her to wake up so he could have his life back on track. When Priya woke up, she didn't recognise Ram. It was a rather heartbreaking scene and we almost shed tears.
Every time Priya got drunk
This has happened several times on the show and every time the scene was better than before. Priya cannot handle her drinks, in spite of knowing this Ram often got his wife drunk to see her speak her mind without inhibitions and behave cutely.
Ram and Priya getting married again
The show will end with Ram and Priya tying the knot and retaking their marital vows. BALH definitely couldn't have had a better ending than this.