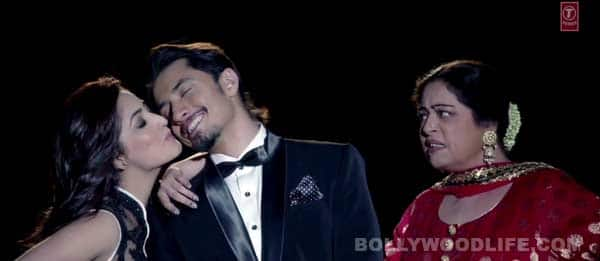 While the trailer of Total Sipayaa looked promising and funny, the movie is nowhere close to being a laugh riot. Even Ali Zafar, whose forte is comedy, fails to save this film
Directed by E Niwas and written by Neeraj Pandey, Totally Siyapaa stars Ali Zafar, Yami Gautam and Kirron Kher in lead roles. Yes, there is Anupam Kher too, but he makes an entry post interval and has hardly any dialogues. Coming to the film, the makers have literally lived up to the name – it's a completely chaotic plot with very few comic punches that will leave you in splits. What's disappointing is the fact that Total Siyapaa has some really good moments but it fails to sustain it till the end. Just when you feel the movie would go to another level, it doesn't. Though the second half is a tad better than the first, overall Total Siyapaa falls flat when it comes to entertainment quotient and that's the reason why you might just regret stepping into the theatre.
Plot
A Wednesday fame Neeraj Pandey's latest offering is about a Pakistani guy and his Indian girlfriend. Aman (Ali) isn't sure about meeting his ladylove Asha's (Yami) family but eventually he does. Asha's mother (Kirron Kher) is a typical Punjabi maa who screams instead of talking. Well, that's how Punjabi's speak. Her irresponsible sister is married and has a seven-year-old daughter who plays bizarre games which kids her age are usually unaware of. Then there is Asha's younger brother who hates Pakistanis to the core and is a racist. Her grand dad is an ex-army officer, who went to war against Pakistan and loves roaming in the house with his rifle. Anupam Kher is Asha's father who works doubly hard coz he has been demoted but the family suspects he is having an affair.
While Aman decides to impress Asha's family, things go wary as soon as her family finds out he is a Pakistani. That's when the story actually takes off and then series of unfortunate events take place leading to not-so-funny situations. In the second half, you get to see the versatile Anupam Kher but he delivers an over-the-top performance which is NOT hilarious at all. In attempting to make every scene funny, the makers have ended up offering us not-so-funny and oh-so-boring film.
Performances
Ali Zafar as the hapless Pakistani boyfriend is tolerable. Though his act was impressive in Tere Bin Laden and Mere Brother Ki Dulhan, this time the singer-actor's comic timing does not hit the bullseye. Yami Gautam is not even tolerable. The Vicky Donor babe just doesn't fit the role. It seems as if she had no idea what was expected of her. Also, the chemistry between Ali and Yami is too blah and absolutely thanda. Anupam Kher should have just stayed away from this role that doesn't match his calibre as an actor or an acting school owner. It's sad to see an actor with such talent being wasted. If there is one actor who stands out in Total Sipayaa it is Kirron Kher. She is brilliant throughout the film and the only reason why people in the cinema halls did not mind staying and watching this movie instead of just walking away midway.
Verdict: Skip this one even if you're offered free tickets!
Rating:
out of 5
Reviewed by Namrata Thakker
* Poor
** Average
*** Good
**** Very good
***** Excellent