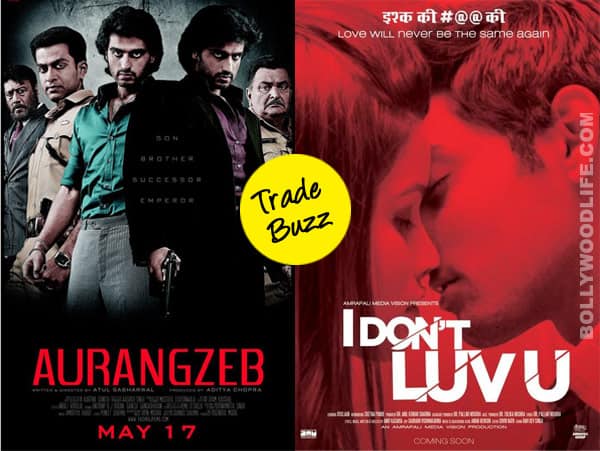 The trade buzz suggests that the Arjun Kapoor starrer has an upper hand over the relatively smaller film I Don't Luv U
For the past several weeks the audiences have had choices – at least two films released every Friday. This week, there is Yash Raj Films' Aurangzeb and Anil Kumar Sharma's I Don't Luv U all set to be unleashed for film buffs. Directed by Atul Sabharwal and produced by Aditya Chopra, Aurangzeb has Arjun Kapoor playing a double role, along with Rishi Kapoor, Jackie Shroff and Prithviraj, who play pivotal characters. I Don't Luv U stars Ruslaan Mumtaz and less known faces Chetna Pande and Murli Sharma.
While Aurangzeb focuses on the theme of 'Kingship knows no kinship' and 'there can be only one emperor', I Don't Luv U focuses on today's youth, especially college kids who are extremely casual in their relationships and do not want to delve into the intricacies of true love. Though the two different genres cater to different audiences, the trade is quite clear about which has better prospects at the BO…it's not rocket science!
"Yash Raj Films is back with a slick action thriller – Aurangzeb – after a long gap of six months (after Jab Tak Hai Jaan; Mere Dad Ki Maruti was produced by Y Films). And with the kind of buzz it's creating and considering the appeal it has with a fairly wide audience base, it has fabulous prospects at the box office!" feels trade expert Akshaye Rathi. "While the vintage 80's style action drama with Arjun Kapoor will ensure that the audience in the single screens has a great ride, brand YRF will ensure that it has a good run at the multiplexes too!"
Rajesh Thadani (Distributor, Multimedia Combines) echoes the same sentiments: "Aurangzeb looks interesting, with a unique star cast, and I hope it will stand out. Considering Arjun Kapoor will be seen in a double role, expectations are quite high from this action thriller. Arjun's debut film, Ishaqzaade did well at the box office, and now since Arjun has become a popular actor and carved a niche for himself, Aurangzeb should take a good opening. Unfortunately, I Don't Luv U has a very low appeal and will witness a slow start."
We definitely feel Aurangzeb has an edge over I Don't Luv U, which looks like a come-and-go film from every angle. Watch this space for box office collections next week!