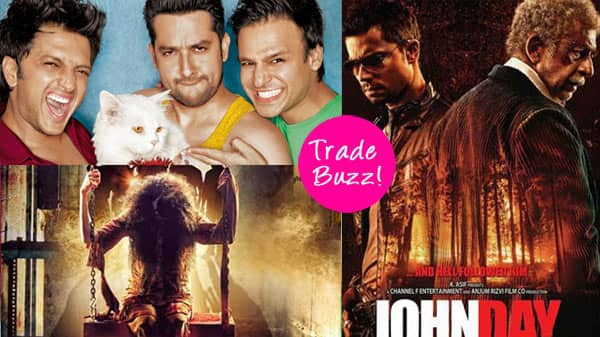 While the sequel to the 2004 hit sex comedy has generated enough buzz among the youth, Vikram Bhatt's horror flick and the Naseeruddin Shah starrer runs low in its promotions. Trade pundits believe Grand Masti will be people's first choice this week followed by Horror Story and John Day
This week again has a number of films slated for release – Grand Masti (GM), Horror Story (HS) and John Day (JD). Though film buffs have three different genre films to watch, one wonders who will spend Rs 200 or more to see movies which lack star power and promotions. As far as GM is concerned, it runs on the hype of the brand value – original 2004 sex comedy – Masti that got butchered by critics but was loved by the youth. Ahishor Solomon's thriller John Day may be high on content and performances by Naseeruddin Shah and Randeep Hooda but zero publicity could play a spoilsport. Similarly, a horror genre has always been a winner but Vikram Bhatt's Horror Story has zero buzz to the extent many aren't aware whether HS and JD are even releasing this week!
Grand Masti: Exhibitor-distributor Akshaye Rathi says, "GM is one of those films that not too many may endorse publicly, but will be watched by people of all ages, demographics and backgrounds! The film's promos have been absolute eyeball poppers and have grabbed everybody's attention. You may like it, hate it, but you can surely not ignore it!"
Numerologist Bhavikk Sangghvi predicts, "Now this one seems to be a remake of the Hollywood film American Reunion. With the same team of actors – Vivek Oberoi, Aftab Shivdasani and Riteish Deshmukh, writers and director coming back, will the makers be able to tickle your funny bone as well? As per the numerological meaning derived, the film will receive mostly negative reviews and get thumbs down from the critics, but its target audience (read mainly the youth) will take to the film in a big way and make it a 'grand' success."
Horror Story: After keeping a low profile, the horror film specialist, producer Vikram Bhatt is all set to showcase his next Horror Story. Directed by Ayush Raina, the movie revolves around seven youngsters who challenge each other to spend the night at the infamous hotel in the heart of the city. Little did they know that this experience will turn out to be the most horrendous night of their life?
Akshaye informs, "HS has been made on a shoestring budget by Vikram Bhatt, who probably understands the horror genre like no other director in India does. It may not show huge numbers, but there's no way this film is not crossing the finish line when it comes to recovering its costs!"
John Day: Naseeruddin Shah and Randeep Hooda team up in what looks like a gritty and edgy thriller. Bhavikk foresees, "John Day seems a direct lift from the 2002 Spanish thriller Box 507. Will debutant director Ahishor Solomon be able to do justice with a plagiarised script which he claims is only 'loosely inspired' ? Being a thriller, the genre does not go in sync with the title and hence the film will fail to take off and go largely unnoticed.
So BollywoodLifers, which among these films are you looking forward to watch this weekend? Do let us know!