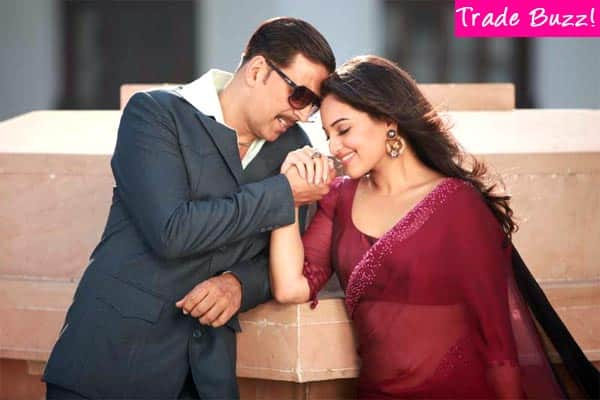 Considering the good marketing buzz and Akshay Kumar's star power, the sequel to the 2010 gangster flick has its makers, trade experts and the audience excited, feeling that the Milan Luthria flick will surpass the original film in terms of box office collections and, of course, dialogue baazi…
Produced by Balaji Motion Pictures, Once Upon A Time In Mumbaai Dobara is one of the biggest and most keenly awaited multi-starrers of the year. Milan Luthria, who directed the first instalment – Once Upon A Time In Mumbaai starring Ajay Devgn and Emraan Hashmi – and The Dirty Picture that changed public perception of Vidya Balan, has created the romantic drama. It has been shot partly in Oman and largely in Mumbai, recreating the 80s. In fact, this one is Balaji's third film in a row with Luthria.
The Akshay Kumar-Sonakshi Sinha-Imran Khan starrer tells the story of underworld don Shohaib (Akshay Kumar), who killed his mentor (Ajay Devgn in Once Upon A Time In Mumbaai) to gain supremacy and is now the ruling mafioso. His influence and power have spread to the Middle East. Shohaib wants to gain full control over Bombay (as it was then) and this is met with resistance from two powerful ganglords – Vardha and Arun. With a change in its cast and context, will Milan be able to re-create the powerful drama of the first film?
"Milan Luthria's last two films – The Dirty Picture and Once Upon A Time In Mumbaai – have been huge hits and were extremely popular with the masses. So there are huge expectations," says exhibitor-distributor Akshaye Rathi. "Akshay Kumar and Sonakshi Sinha together has worked big time with the audience and at the ticket counters. So the question of whether the film will perform well at the box office doesn't arise. It has all the elements needed to be a blockbuster. Though the film doesn't have a massive release like Chennai Express, it still has a deserving release and has the huge potential to become a major success, considering the Independence Day holiday. Bhaag Milkha Bhaag was a non-holiday release, but it went on to become a huge hit. Ultimately, your product has to be good and everything else falls into place."
So how much money will this movie make in its opening weekend? Rathi says, "It's subjective, 'coz we need to know how many shows it is getting today to predict the weekend collections. The film has a pan-India appeal, plus Akshay Kumar has a huge fan following in the Gulf and Canada. So besides India, the movie is expected to do good business in these two countries." Rajesh Thadani, Distributor, Multimedia Combines echoes similar sentiments: "OUATIMD looks promising. Independence Day holiday will be a boon."
Numerologist Bhavikk Sangghvi predicts, "Unlike the first part, the essence and the flavour might be missing this time and hence the film may not live up to the hype, especially if one has huge expectations. Akshay Kumar will do full justice to his character, whereas Imran Khan will do an earnest job in giving Akki tough competition. For producer Ekta Kapoor, who's a Gemini – her luck is not really great and hence she may fail to deliver a hit this time."
As of now, everything looks positive for this gangster drama and we look forward to a film as interesting and absorbing as OUATIM. Do you agree, Bollywoodlifers?