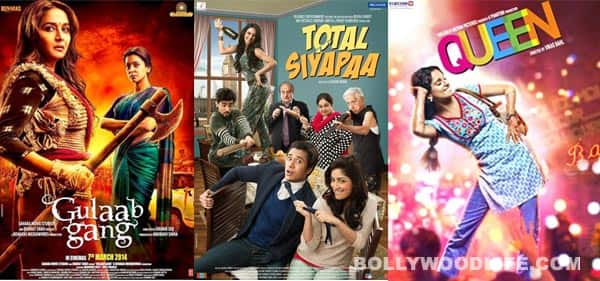 Should the other films releasing this Friday celebrate the stay order on Gulaab Gang?
Madhuri Dixit Nene and Juhi Chawla's movie might not make it to the theatre this Friday thanks to the legal woes, but there is plenty to choose from. While there is a great buzz around Kangana starrer Queen, Ali Zafar's romantic comedy Total Siyapaa also looks promising and has been promoted quite well. Apart from these two Bollywood films, 300: Rise of an Empire will also hit the theatres but the question is – which film will rule at the box office? This Friday is going to be a treat for movie buffs. Three big films – Kangana Ranaut and Rajkummar Rao's Queen, Ali Zafar-Yami Gautam's rom-com Total Siyapaa and much-awaited Hollywood action flick 300: Rise of an Empire will release on the same day. While director Vikas Bhal's Queen looks interesting, singer-actor Ali Zafar's family entertainer has also grabbed movie goers' attention. And making the box office battle tougher is the sequel of 300 which hasn't been promoted extensively but the name is enough to pull in crowds to the theaters thanks to its blockbuster prequel. So which of these films will get cash registers ringing? Who will create hungama at the ticket windows? Will Kangana overshadow Ali Zafar at the box office or will the Hollywood film play a spoilsport for the Queen and Total Siyapaa? Exhibitor-distributor Akshaye Rathi says, "Three very diverse films are releasing on the 7th of March – Total Siyapaa – an urban romcom, Queen – a quirky comedy and 300 – The rise of an Empire – a gory, violent action franchise. Thankfully, none of these films really bite into each others space and will all get equally good showcasing at the cinemas.
Further Rathi points out, "Had 300 been promoted better, it would surely have surged past the two Hindi releases, though as of now, it looks like a contest of equals between the three films. It may not be a week with huge numbers for any of the films, but the macro level scenario looks good for all the segments of the chain."
"Total Siyapaa will appeal mainly to its target audience who frequent multiplexes of metros/big cities and that's about it," predicts ace astro-numerologist Bhavikk Sangghvi.
Looks like all the three films have equal chances of racing ahead in the numbers game. However, the case would have been different had Madhuri Dixit-Nene and Juhi Chawla's much awaited film Gulaab Gang released simultaneously. The movie was supposed to hit the screens this Friday but the Delhi High Court has stayed the release of Gulaab Gang.