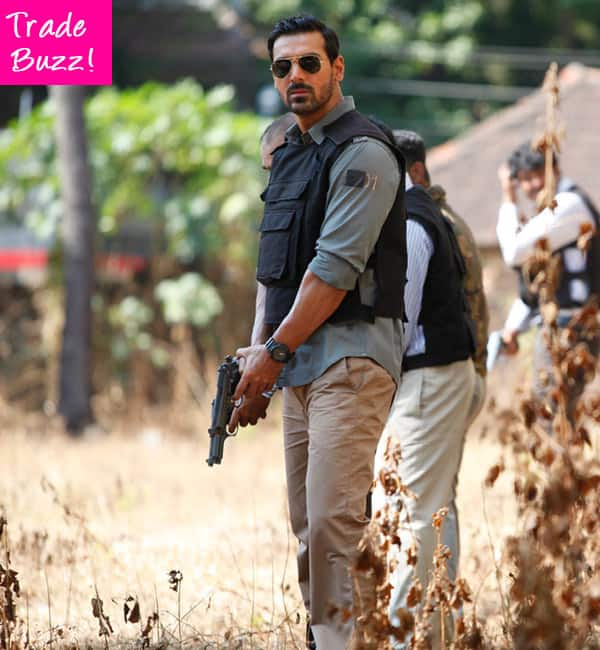 The Vicky Donor producer-director team is back with a political espionage thriller. But will they be able to repeat the success like their last joint venture?
After the runaway success of their maiden collaboration venture Vicky Donor, filmmaker Shoojit Sircar and actor-producer John Abraham have join hands once again to attempt a war-based film. Madras Cafe is set against the backdrop of the Sri Lankan Civil war of the '80s showcasing John as a RAW agent who's been asked to be a part of a covert operation that has arisen from political unrest. Unlike his last outing – Shootout At Wadala – John Abraham will be a law-protector in his latest war-based film also starring Nargis Fakhri and Rashi Khanna.
Shoojit's latest presentation has already come under the scanner with the Tamil activist group – Naam Thamizhar seeking a ban on its release for the portrayal of Liberation Tigers of Tamil Eelam (LTTE) members as terrorists. However, Abraham feels his film has gained unnecessary political mileage and hopes nobody uses his film as a ground for their political gains.
"Madras Cafe is a very interesting film, but for a purist niche audience," informs exhibitor-distributor Akshaye Rathi adding, "The premise of the film gives it ample scope to appeal to a wider audience courtesy the word of mouth that it should have if the film is engaging enough." Whereas Rajesh Thadani, distributor, Multimedia Combines feels the film looks average with not much buzz and that there are chances of it getting affected by biggies like Chennai Express and Once Upon Ay Time In Mumbai Dobaara.
Numerologist Bhavikk Sangghvi predicts, "As per the numerological meaning derived, it indicates that it will be a well-made film and will be liked by its target audience who prefer watching realistic cinema. John will deliver one of his career's best performances and will be appreciated by the public and critics alike." About Nargis Fakhri, Bhavikk says, "The Rockstar girl (20th October 1979) in her 34th year is also passing through a decent phase and will draw good response for doing an earnest job. In short, MC will prove to be a proud project for its makers and will add one more feather in director Shoojit Sircar's hat."
Will Shoojit Sircar and John Abraham's reunion bring them good fortune at the box office? This Friday will say it all…