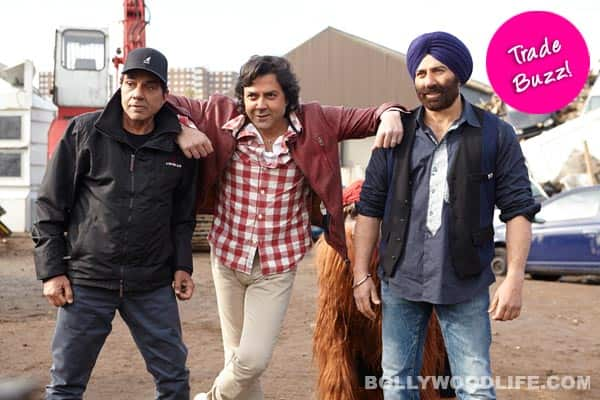 The much-anticipated sequel has its makers and trade pundits excited, as they feel that the Deols – Dharmendra, Sunny Deol and Bobby Deol – will be successful in doubling up their magic quotient this time around…
Yamla Pagla Deewana was one helluva ride that made us giggle. Now the sequel – Yamla Pagla Deewana 2 – appears to be nothing less. The theatrical trailer of the second edition of the 2011 hit comedy has generated enough interest and enthusiasm among cinegoers, especially fans waiting to see their favourite family get into yamla pagla deewana mode all over again. But the big question is – will the Deols pass the acid test this time too?
"YPD2 has all the elements – rib tickling comedy, peppy music, old school action and dance moves and the Deols (just as you want to see them) – that can set the box office on fire. The film has great appeal, particularly at mass dominated centres and is poised to make the audience have a gala time at the cinemas. I'm quite certain that's exactly what will happen on June 7," insists the leading exhibitor-distributor Akshaye Rathi excitedly. Rajesh Thadani, distributor, Multimedia Combines feels, "The film looks interesting and positive and will take a good initial, especially in the North belt, especially Punjab and other states. This film should mark the return of the Deols!"
Numerologist Bhavikk Sangghvi predicts, "The number arrived from the film's release date June 7, 2013, also happens to be Sunny Deol's birth number (October 19, 1956). Also, the year 2013, which adds up to Number 6 (Venus), is likely to prove lucky for most Number 3, 6, 8 and 9 people, places, dates, names, etc, and Bobby Deol (January 27, 1969), Dharmendra (December 8, 1935)and Neha Sharma (November 21, 1987) all fall in to this bracket directly. No prizes for guessing that the performances of all the actors (including the monkey) will be liked by the paying public and the film will get a big thumbs-up from the aam junta for providing wholesome entertainment," adds Sangghvi.
As of now, everything looks positive for this fun film and we hope the Deols won't disappoint us this time. Do you agree, Bollywoodlifers?