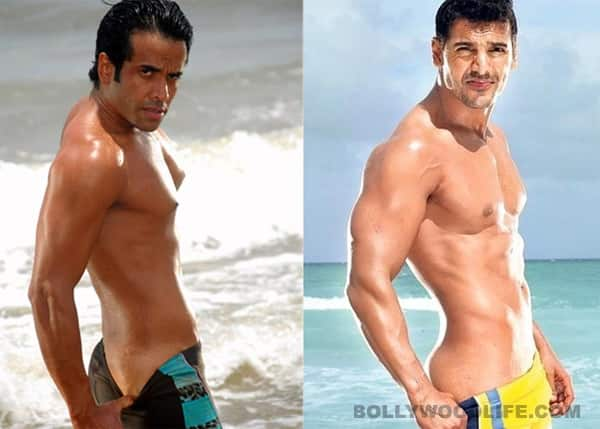 The Kya Super Kool Hain Hum actor's dare bare pic in a leading daily caused him a lot of embarrassment on the social networking site
One of the highlights of Kya Super Kool Hain Hum is supposed to be a scene in which Tusshar Kapoor imitates John Abraham's Dostana act where he displays his well-toned bod at the beach. A proud Tusshar uploaded the 'hot' photograph on Twitter and since then, everyone is taking a dig at him. Most of the jokes are nasty and we think the 'super kool' dude might not sleep well tonight. We picked up some tweets which caught our attention, just for fun.
#Tusshar Kapoor is the male Poonam Pandey!!!!
No seriously, after that photograph, somebody has to shoot Tusshar Kapoor. With a gun I mean.
Why is everybody making fun of Tusshar Kapoor?.. just leave her alone..
Keira Knightley and Tusshar Kapoor should exchange their torsos…
Dear Tusshar Kapoor ! aap john Abrahm Ke "Uske" ke Barabar bhi nahi hai..
Has anyone noticed how Tusshar Kapoor is advertising cosmetic surgery and underwear at the same time? The man is a genius!
Tusshar Kapoor is a good girl. leave her alone.
Bobby Darling is apparently stalking Tusshar Kapoor after seeing todays Bombay Times.
God appeared in front of Tusshar Kapoor and said "I can either make your Mind sharp or your manboob sharp".. and the rest is History.
That awkward moment when Tusshar Kapoor requires a bra but Sonam Kapoor doesn't.
'Mere paas moobs hai.' — Tusshar Kapoor in the sequel to Deewar.
Tusshar Kapoor is the new Pointy Chadha.
A patient came to me after ingesting some poison today. I showed him Tusshar Kapoor's moobs photo. He puked out the poison and was saved
If you have any one-liners about Tusshar's new look, feel free to share with us.