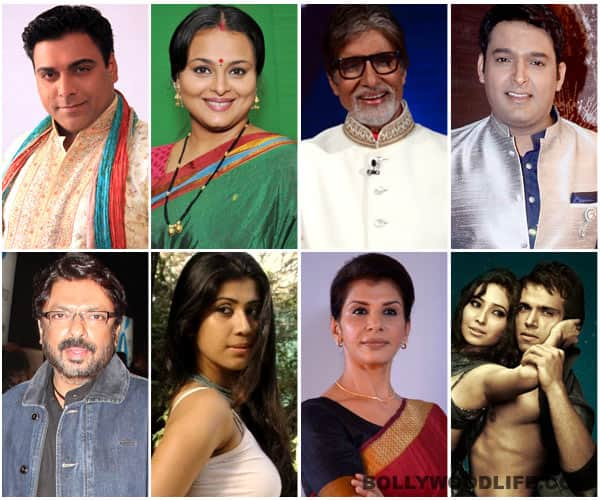 Santa is checking his list twice before he comes down the chimney to deliver his gifts to deserving telly celebs. But who has been naughty and who was nice? We find out….
The year 2013 has been awesome for several TV stars and quite the opposite for a few. Kapil Sharma made us proud when he took on the onus of entertaining people with his comic act on Comedy Nights With Kapil. Ram Kapoor swore to never forget his roots in TV, no matter how many films he does. And he juggled shoots without looking like he needed a break. Clap…clap!
Considering we love talking about the good and the bad of celebrities – though we kinda prefer the bad – we decided to categorise them in two lists, thus making Santa's job easier. We, the trusted elves of the fat man in the red suit, have even thought of the perfect gift each star should receive in their stocking. Read on to find out who features on Santa's Nice list…
The Nice list:
Kapil Sharma: After his stint on Comedy Circus, he produced a new show for Colors – Comedy Nights with Kapil. He lightened everyone's mood and provided enough content for people to roll on the floor laughing. Perfect Gift: Extra time slot on the channel, because we miss him!
Rithvik Dhanjani and Asha Negi: The cute and adorable couple finally spilled the beans about their relationship in front of the media. It was cute to see the two best friends become lovers and we are still feeling it on Nach Baliye 6. Perfect Gift: A book on what to do when in love!
Ankita Bharghava: The actor added a new feather to her hat when she became a part of an Indo-Swedish mini-series. It was a huge leap for the gal and definitely a well deserved one. Congrats Ankita! Perfect Gift: A Swedish translator. And if he is cute, nothing like it! Wink!
Shilpa Shirodkar: The late 90's popular actor decided to take a break from life as wife and mother and come back to work when she returned to India with her family. While most actors would have opted for a more glamorous role, Shilpa chose to play a kaamwali bai on Indian television. Perfect Gift: A sexy saree to make her feel on the top of the world.
Anita Raaj: It takes guts to make a comeback after being established as a top heroine of the 70's and then fading away over time. Hats off to Anita for taking the bold step and coming back in Anil Kapoor's 24 as a mother and hard-nosed would-be politico. Perfect Gift: A magic potion that will keep her going strong.
Amitabh Bachchan: The man keeps reinventing himself even at 71. He will now be seen in a fiction show on Sony created by Anurag Kashyap. What an inspiration! Perfect Gift: A special tonic that will help him grow younger by the day.
Sanjay Leela Bhansali: It's about thinking larger than life and that's exactly what SLB does. After making super-big movies, he brought the element on television with Saraswatichandra. Not everyone can take that kinda risk, no? Perfect Gift: A ladder that will keep him on top of the charts.
Ram Kapoor: The portly man has become the king of television and is slowly climbing the ladder in Bollywood. However, he promises that no matter how many movies he does, he will never give up TV. Now that's a man who knows his roots. Perfect Gift: His clone as a gift so he can fulfil both TV and movie commitments.