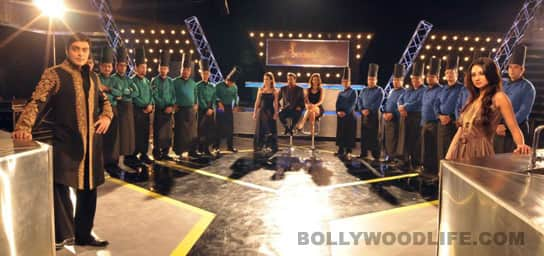 The new reality show promises to teach us about Indian and Pakistani cuisines through a cooking competition
Siddharth Basu, the guy behind Kaun Banega Crorepati, has now come up with another reality show – Foodistan. The show aims to pit the best chefs from India against their counterparts from Pakistan, in an attempt to showcase the most remarkable dishes of the two nations' cuisines. While the first episode introduced the contestants and the judges, the second and third episodes each saw two teams of four chefs cooking four dishes – curry, kebab, biriyani and a dessert. Acting as judges are actor and restaurateur Sonya Jehan (of My Name Is Khan fame), food critic Vir Sanghvi and British chef Merrilees Parker.
The commentary needs work – lines like "putting the kebabs in the sigdi" and "the chef that wins" instead of "the chef who wins" take away from the intensity of the show. The show is supposed to teach everything about authentic Pak and Indian cuisines but in the first three episodes, we haven't really learnt anything about the uniqueness that differentiates the two.
Hold on, watching the show is not a waste of time. What we do learn is the importance of presentation; 'plating' a dish is as important as cooking it. It also has a lot to teach about teamwork as all the chefs come from different backgrounds and really haven't worked together before. Foodistan will inspire you to get up from that couch, don an apron and create something new.
Foodistan airs Monday to Wednesdays at 9.30pm on NDTV Good Times
Also Read