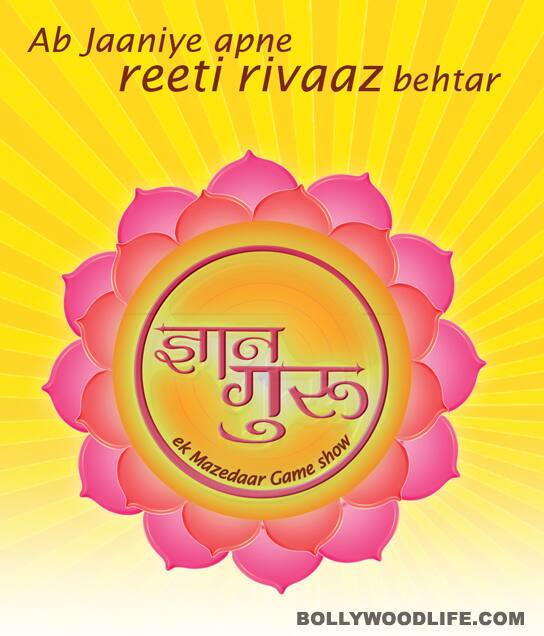 A game show on 'What we know and what you want to know' about Indian traditions just doesn't make for interesting viewing
If there's any term that is constantly being redefined, it is 'Indianness'. So when Gyaan Guru's advertisements first started airing with the statement that it is a quiz show about 'our' traditions, we wondered how they would define 'us'. The show's host Shakti Arora asks a contestant in the first episode how come he is an engineer and still knows about 'Bharatiya sanskriti' (Indian culture). First of all, what is 'Indian culture'? From what we could figure out from the first two episodes, it is being defined as 'Hindu traditions'. Aren't we a secular state? Anyway, let's keep that aside for the moment and ask another question: Just because he is an engineer, he isn't expected to know about tradition? Then who is expected to know? Only people like his competitor, the middle-aged housewife?
The game moves at a snail's pace with Shakti, the self-confessed sutradhaar, giving a recap of everything that's happened several times. Plus, one question earns you just one point….oops….punya. The winner is the one who earns five punya first. He (since the engineer defeated the housewife) will now compete with another aspirant, and so it goes on. Shakti also makes a couple of cardinal mistakes – like smiling when telling a contestant that she has given the wrong answer and wearing western clothes on the show. The production team needs to take a cue from that of Kaun Banega Crorepati. Rollover contestants and Amitabh Bachchan wore a different outfit every episode, even if it was shot on the same day. Here, the two rollover contestants and Shakti wore the same outfit for one and a half episodes. Then suddenly the winner and Shakti changed into new outfits in the middle of the second episode when they welcomed contestant number three! What is going on? Someone needs to check with continuity here!
Gyaan Guru fails to make for compelling viewing and leaves us with more questions than answers. Mostly stuff like" 'Why are we watching this show?'
Gyaan Guru airs weekdays at 7.30pm on Imagine TV