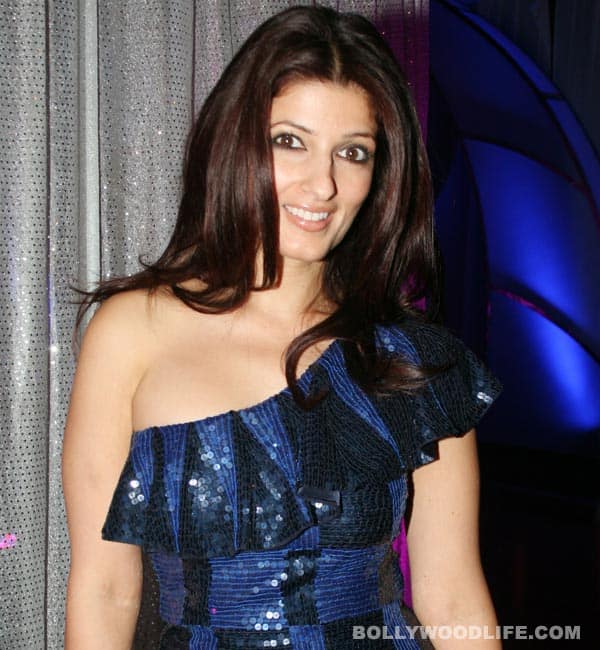 Akshay's wifey has turned writer and her first column gives you a sneak peak of  her daily routine
Besides Shahrukh Khan, Twinkle Khanna has also turned columnist for DNA's entertainment supplement After Hrs'. This B-town beauty is no less then a superwoman wethinks. She is a interior designer, producer,  full-time mother and now a writer. Looks like Akshay Kumar isn't the only khiladi at least in the house, hai na? Read on to know how Twinkle Khanna's day unfolds from 8 am…
Eight am, I woke up with a start. Between the hazy bitter aftertaste of my regular dream and the pandits' loud Om chants sleep was not going to be my escape today. Why do they have to make such a racket early in the morning? If there is a God, it's unlikely that he would need a wake up 'call.' If I was God, then someone screaming Gayatri Mantra and ringing a bell in my ear at 600 decibels early morning would not exactly incline me to grant their every bloody wish.
10 am
My body needs caffeine to lubricate all my joints into some semblance of normal function, but as I walk to the kitchen, the two children who at some mistaken point I deemed necessary for my happiness and for the future of mankind dash into me while playing 'catch the mosquito or catch dengue' (a game unique to mumbai suburbs).
Noon
The man of the house appears from the kitchen all shaved, showered, highly toned, sipping a glass of gross tasting amla juice. Can't he just once in a while behave normal? Push out his stomach, lounge in his pjs, have a chocolate milkshake? This quest for perfection is a bit intimidating and terribly boring to be honest. Sometimes I wonder who are these people I live with? I haven't even known them for half my life, but now it's my duty to make sure all their mental, physical, and emotional needs are duly fulfilled. It's a wonder the average 40-year-old woman doesn't run out of her house screeching Bhaag Mikha Bhaag all the way to never-never land.
3pm
Can't waste all my time thinking about these imaginary 40-year-olds. Have to get some work done before my workaholic business partner murders me. Computer on, inbox open and… 23 new emails. Six from a crazed China man and potential supplier all saying, 'Why you never reply my e-mails? You buy or not? Just tell me! I wait reply. You not reply. Why? Just tell me!!' Three other mails.
1) I have won $3.2 million in a lucky draw
2) A random man has lost his phone in London and I should send a draft to his bank account.
3) I have been invited to judge a beauty contest at friendship club in Patna. All very tempting propositions that I politely ignore.
6 pm
The other 14 emails are from my mother. What do they contain you may wonder.
1) Ugly pictures of me as a teenager which she insists I should show my son to prove how similar we look
2) Forwards from her online poker buddies requesting free poker chips
3) Three pictures of a hideous cabinet that she thinks I should immediately copy
4) Links to a website where I can buy a card and get a five per cent discount at kala saris and dress materials. Famous Indian saying: If you dig deep enough in junk mail you will hit the mother load of junk.
8 pm
I see Elysium with the man of the house. Storyline rich people live in paradise and poor people struggle for a living on battered earth in the year 2154. The battered earth looks pretty much like the Dharavi of today. While watching the movie, I started to think of all these people they look after our kids, clean our toilets, cook our food all the while knowing that just one handbag that we have, costs more than what they make in a year. What stops them from hating us enough to stab us while we sleep? Is it the occasional bits of kindness that we throw their way to assuage our guilt? Or is it just our universal Indian tolerance and strong faith that God exists and will eventually hear all our 600 decibel prayers!