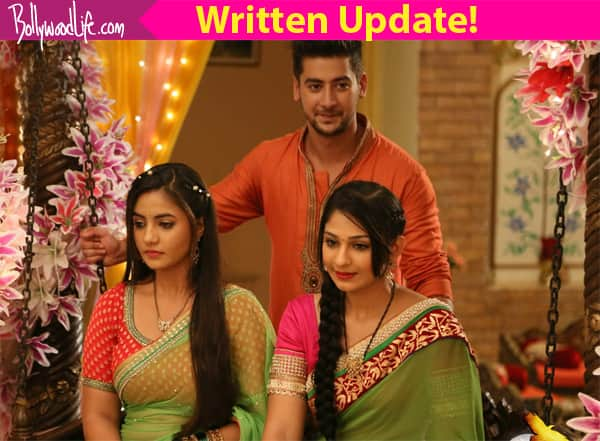 Suraj (Vijayendra Kumeria) and Imli (Vidhi Pandya) go and invite Chakor (Meera Deosthale) and ask her to come with them. Chakor starts shouting on them and says she doesn't want to meet anyone. She reminds Imli of Vivaan. She closes the door and says is someone wants to meet her he should come to her. She will not go anywhere.
Imli goes and hugs Vivaan and says she wants to ask him something. She asks if he feels jealous seeing Suraj and her together. Imli tells him that she is just pretending to be with Kamal Narayan so that he and Chakor sends Kamal Narayan back to jail. He says he trusts her and that he has a plan to end Kamal Narayan's chapter.
Kamal Narayan comes outside Chakor's house. Chakor ask how come he is here. He asks he has just come to meet her as she wanted. Suraj asks tejaswani about Kamal Narayan. She tells him that he has gone to the village to meet Chakor. Suraj gets worried.
Chakor asks what does he want. Kamal Narayan says he wants to make a deal with her. He says he wants to make a compromise for peace. He asks her not to try to send him to jail while he too will not harm his family or any villager. He asks if she has got an offer from Asian Games.
Chakor tells him that before she makes a decision she wants a promise from him that factory will not be shut. She says she wants to see Ragini's contract papers. He says he wants peace and although he has done mistakes in the past he doesnot want to repeat them in the future. She says workers should be paid for their hard work. He agrees. She says it's difficut to beleiv him. He asks her to let him know her final decision later. Suraj comes and asks Chakor what did Kamal Narayan say. Chakor says it's not his business and leaves. Suraj stops him and asks her to tell what she said. She asks her to ask his maalik. Suraj puts his hand on her mouth and asks her to listen. He tells her about her and Imli's plan.
Chakor asks Suraj why did he not tell her before. He says he had come but she closed the door on his face. She thanks him for supporting her and motivating her. She asks him to be extra careful. Suraj says he will but meanwhile Vivaan and Chakor will have to find out how did he come out of the jail.She says she will have to check Ragini's contract papers.
Imli waits for Vivaan. He comes back. Imli asks her questions. Vivaan asks her not to ask questions to him and goes straight into Ranjan's room. Everyone ask him to come out. He comes out with two luggage bags. Ranjana asks where is he going. He says this is her and Kamal Narayan's luggage and ask them to leave.
Suraj and Chakor go towards the factory. Suraj asks her to be careful. She says she has been on such missions earlier so she doesn't need his advise. The car breaks down. Chakor starts shouting that why does this happen everytime when she goes to do something with him. Suraj asks her to stop shouting and help him instead. She makes fun of him that a good looking man like him is asking help from a girl. She leaves saying she is getting late. Suraj smiles and thinks of Chakor's words. He realises that she made fun of him.
Imli asks Vivaan to calm down. Ranjana,Ragini and Kamal Narayan ask that why is he behaving like this instead of apologising to him. Vivaan asks them to leave. He tells them that all his property is now on his name. He says there is nothing left in his account. Vivaan says now that everything is in his name, he will decide who will stay in his house and who will not. He says before he calls them police, they should leave on their own.
Kamal gets angry. Vivaan says the haveli is on Suraj's name. The food he eats and everything else has come from his workers' hard work. Imli says she can't this. She says if he will ask them to leave then even she will leave the haveli. Imli brings him aside and asks him to stop behaving like this. Kamal Narayan asks him to give him time of 24 hours to find another accommodation. Vivaan agrees.
Imli asks Vivaan to not take decisions so hastily. Vivaan asks her not to worry. Chakor reaches factory and gets shocked to find Ragini there. Ragini tells her that papers are with his father. Chakor asks why is she doing this to the villagers. Ragini threats her and asks her to leave.Also read: Udaan full episode, 18th October 2016, written update