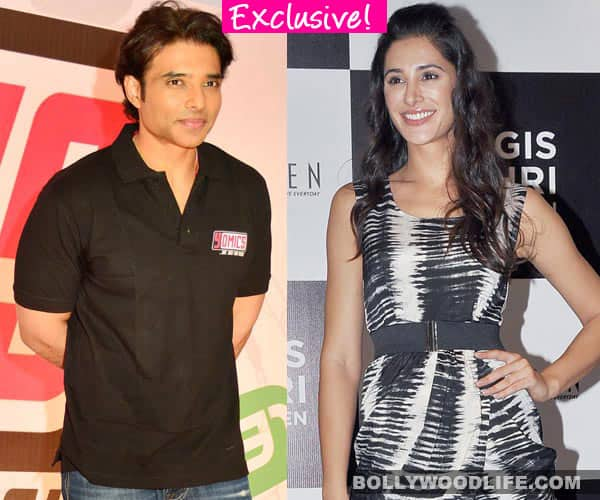 The irreverent, the playful, the tapori Ali is back. We caught up with the daredevil Dhoom:3 biker and this is what he had to say…
We were at YRF studios yesterday for a quick chat with Uday Chopra about Dhoom:3, his love life, his international company and more. The man showed up in grungy jeans and chappals, and with that he killed our plans for a video interview with him. But the chat happened off camera…
We saw Aamir Khan, Katrina Kaif and Abhishek Bachchan at the Dhoom:3 promotional events, but you were missing. What kept you away?
I was not in town. I was in Los Angeles. I have started my company there, so most of the time I am there. That's the only reason I couldn't make it to the events.
Two years ago, you announced on Twitter that Dhoom:3 would be your last film as an actor. Does that mean we see Dhoom:4, or will your character end with Dhoom:3?
I meant to say that Dhoom:3 is my last film to pursue the career of an actor. I am no longer going to pursue the career of an actor. I have become a producer now. So that's my focus. If Dhoom:4 happens and if they want me to do Ali's role in that, then I'll do it. Also, if there are any small, fun roles in any film, I'll do it just as a hobby. But I no longer consider myself an actor. My career is now producing movies and that's what I want to concentrate on.
How would you describe your chemistry with Abhishek Bachchan, since you both have been a constant in the Dhoom franchise?
It's great. We both have really grown, on and off set. Now we kind of fill each other's spaces so much that we don't need to rehearse. The director wants us to rehearse sometimes, but we know that we don't need to. Most of the time it happens that we say 'roll camera' and it will happen automatically. So that's the stage we have reached in our friendship.
Aamir and Katrina trained rigorously for their look in the film. Did you also have a special workout regime?
Not really. I was okay to begin with. So I didn't really have a problem. The only training I did was on a motorcycle. But I guess I failed in that, because I broke my foot while doing it. Now it's completely okay.
Who according to you is the more sexy Dhoom gal – Aishwariya Rai Bachchan or Katrina?
Wow! You are putting me in a spot now. I won't select any one name here, because if I do, they will kick my butt. They both are fantastic. Of course, Katrina is not yet seen, but whatever she has done is amazing. Even Esha Deol and Bipasha Basu are great Dhoom girls.
And the best baddie – John Abraham, Hrithik Roshan or Aamir? No diplomatic answers here….
(Laughs) Because we are taking Dhoom to another level, it will be Aamir. That's the only way we can say that Dhoom:3 is three times better than Dhoom:1. It's got nothing to do with acting abilities, it's just that the character that Aamir is playing has so much more than what there was in Dhoom:1 and Dhoom:2.
We hear the ticket prices for Dhoom:3 are being raised to Rs. 500…
I really don't know. I have just come back. However, I do believe that the prices are being raised, but I don't know to what extent. You will have to ask the production team or the marketing team. They will give you more information on that.
Apparently Dhoom:3 won't be promoted on Bigg Boss 7….
I think the film has already garnered a lot of interest. Again, these decisions are not taken by me. I am just repeating what I am hearing. So I can just be a messenger in this case. We believe that less is more with Dhoom. That's the kind of philosophy we are following. I think people who have decided to go and see the movie will see the movie.
So you won't be using TV for promotions at all?
I don't think we are not going to use TV at all. Maybe it's a show like Bigg Boss that we won't be doing. We will be going on other shows, but we won't be going on already hit shows like Bigg Boss.
Talking about Bigg Boss, your Neal N Nikki co-star Tanishaa Mukherji is a contestant on the show. Have you been watching her?
No. Again, I was not in town. So I haven't got a opportunity to watch the show. I know that she is there in it, but I really haven't seen it. So I don't have a judgement on what's going on.
Do you want her to win the show?
Can she? Is she that good?
She has lasted this long. So she must be good, no?
Yeah. Why not. If she is that good, then she should win.
In the film, it's difficult for your character to find true love, but in real life your love life is the talk of the town. Is it true you are dating Nargis Fakhri?
I would really not like to answer that question. I don't want to talk about my personal life. She is a very dear friend. She is a very close friend. That's it.
Is marriage on the cards?
Right now I want to concentrate on my work. When the time is right, I will surely get married.
There are also rumours that a grand wedding is being planned in the Yash Raj house early next year…
Oh, really? For whom? I haven't heard about this. It's news for me. This I am sure I would know if it's true. So there are no plans for a grand wedding.
We have heard that Rani Mukerji is officially your bhabhi now and that Aditya (Chopra) and Rani are engaged…
They are just rumours. There is nothing that has been planned.
You wrote Pyaar Impossible. Are you planning to write again in the future?
No, right now I think the focus is on setting up my company in LA and making a name, creating value; then going forward I will see if I have the ability to direct – then maybe I will direct a film.
Coming back to Dhoom – we have enjoyed your relationships in the films, but this time around Katrina is paired with Aamir, so who does Ali want to hit on?
There is another girl. Her name is Tabrett Bethell. She is an Australian actor and she plays a Chicago cop. Ali will always have a girl. So you will have all that day dreaming by Ali in Dhoom:3.