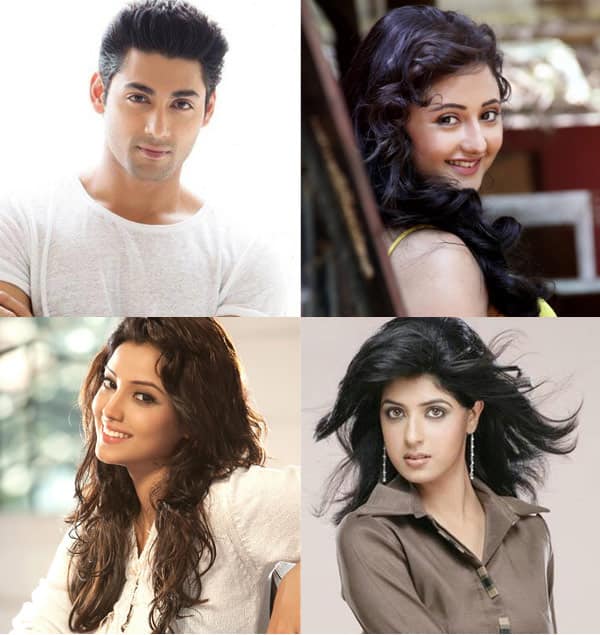 The is the first test of Narendra Modi as the Prime Minister to make a budget that is people and economic friendly, as there are huge expectations riding on him
BollywoodLife got in touch with a few telly stars to know what are their expectations from the budget this year, what tax benefits would they personally wish for and what they think the government should make their priority.
Read on to know what the stars have to say…
Gunjan Utreja: I expect simple tax reformation. From state to state, taxes vary and are high. Taxation policies need to be changed and common man's life should be better and affordable if not luxurious.
Aishwarya Sakhuja: What am I expecting from the budget is less of these ridiculous taxes whenever once steps out to eat in a restaurant…judicious pricing of fuel and a more systematic form of taxation that gives a fixed date of getting your TDS refunds etc as there is a fixed date of filing your returns..I don't know if it's possible in our country or not but an explanation for how our taxes are being used bit by bit how you have in other developed nations.
Manish Raisinghani: Latest Surveys show good news that the GDP is going to rise to 5.4 to 5.9 in 2014-15 compared to 4.5 in 2012-13. The price raise in everything does concern me like everyone else. But I am somehow of the belief that the current government is not following a populist policy to please people. It is doing what our house which is India needs at this point of time and is doing what is needed to get us out of this crisis…. the budgets should not be focused on pleasing people for short term but should target a long term growth of our nation. At least this is what I hope for.
Srman Jain: My expectation is that the, tax burden on our country's middle class service men and small businessmen is reduced.
Ruslaan Mumtaz: Hoping it will not be a populist budget. We have voted for a majority government and its time they take bold decisions, which have been put on the back burner for too long now. I'm hoping a lot more is done for infrastructure 'coz that's one of the major drawbacks in India. Half the energy of Indians is spent in traveling.
Yash Sinha: Well, I m positive…I m sure it is going to be a practical budget which is the need of the hour. Mr. Modi does not believe in appeasement politics…and thank God, for that Mr. Modi will present an apt budget with honest intent in his heart…
Neil Bhatt: 1. Lowering or waiving off service tax on the entertainment industry. 2. Tax liability slab to be increased. 3. Cut down the prices of petrol and diesel.
Samiksha Bhatnagar: The formation of the new government has raised the hopes and expectations of everyone. Right from relaxation in price hikes to better facilities, the governments is now expected to perform on a lot of areas now. New Reforms expected and some green signals for some major initiatives like National Health Assurance Mission, which is set to give a strong healthcare system to the poor across the country. Government may take steps to ensure the availability of affordable housing, with the hope that home loan interest deduction limit is raised from Rs 1,50,000 to Rs 3,00,000. Opening Railways to private sector, laying tracks for High-Speed Bullet Trains. In addition to that, to ensure that the youth of the country are tapped as a resource and is likely to take steps to increase jobs. Must take steps to cut down on food inflation that has shot up to 9.5 percent in May. The media and entertainment industry has progressed steadfastly and the number of releases has increases twice fold in last few years. In order to increase the number of screens, the industry should get tax concessions to encourage the expansion of screens.
Adaa Khan: Reduction in prices of normal house hold stuff like vegetables gas etc.. Medical expenses, also extra effort for female security like CCTV on trains. Tax should be reduced for females… education fees should be reduced. Corruption should be controlled. Fuel rates should be brought down…it is very difficult to survive in such inflation.
Rahul Raj Singh: The problem all along in our country has been that the rich get richer and the poor get poorer, I would expect that the new financial budget has such provisions so as to enable the poor and middle class families to get the three basic necessities that is home food and clothing at a more affordable rate. I hope that the poverty line is greatly reduced. So I expect the new government to bring about these changes and to eradicate poverty as much as possible from our country.
Sneha Wagh: Financial budget should be common man friendly ! I know it's a difficult time for Mr. prime minister to get everything back on track. Let's show him our trust and support. The taxes should reduce in every area.
Vivek Mishra: I want this budget to make daily goods economical. Specially gas and fuel as without them a common man can't live. There should be subsidy on makeup for Rakhi Sawant.
Piyush Sahdev: The entertainment tax should reduce. Vegetable prices and service tax levied in stores on the purchase of product and Petrol prices should be reduced.
Mrunal Jain: The common man should be able to afford basic amenities. The vegetable prices and inflation of rates in everything needs to be reduced.
Ssharad Malhotraa: The budget should focus on making living economical. Taxation policies should be improvised for the TV industry as TV industry provides lot of employment.
Rashami Desai: I feel everyone should have what is needed for basic living. The prices of everything should not increase. Food, clothing and shelter should be taken care of. Petrol prices should be reduced with immediate effect.
Vahbiz Dorabajee: The common man needs should be kept in mind. Price hike of petrol should not be done rather it should be reduced. Roti, Kapada aur Makan are needed by everyone.
Siddhant Karnick: The budget should focus on making things economical and affordable especially the ones which a common man can't do without like vegetable, clothes, grains, toothpastes, biscuits etc. The taxes should be reduced not forgetting the huge populations are paying for it.