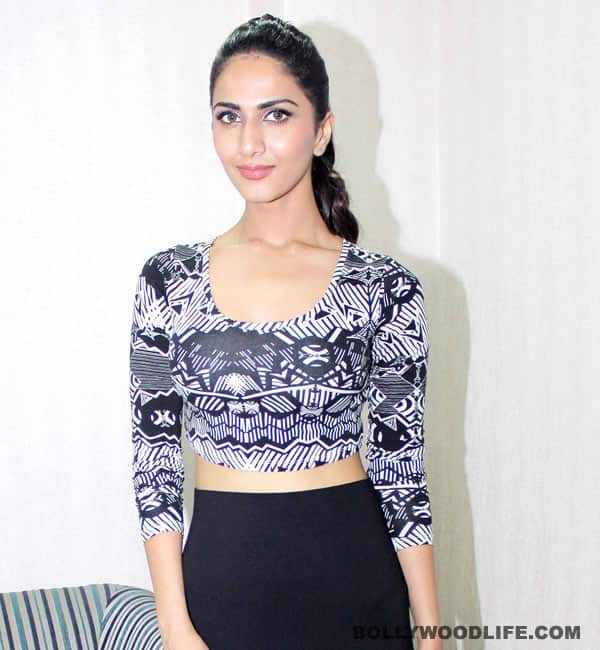 The Shuddh Desi Romance girl speaks to UK-based journalist Ashanti Omkar about being a newcomer in Bollywood and how she wouldn't be acting if not for Yash Raj Films
She started as a model and is now the hot young thing on the filmi block, starring in her first Bollywood film with Sushant Singh Rajput and Parineeti Chopra. Newcomer Vaani Kapoor of Shuddh Desi Romance chats about auditions, acting and catching a fly…
You began by modelling, en route to the movies…
Oh yes, that's how it happened. I was in Mumbai for one of my modelling assignments and on the same day I had to meet the casting director at Yash Raj Films. I did an audition and headed back to Delhi. The very same day I got cast!
Was it really that easy?
Yes! Well, no! I mean, it sure sounds easy, but I had a trail of auditions before I got to meet Maneesh Sharma and Aditya Chopra. I really had to go through sleepless nights and a series of screen tests and I also wasn't so confident about acting. I've never studied it.
So you're a natural…
I hope that the audience finds me natural. I learnt a lot from my first movie, and it was pretty much all done on the job. I can't thank Maneesh enough for this; he is such a focussed director and nurtured me as an actor. I'm serious when it comes to work and worked hard to keep consistency and also build and sustain the character within. It was a thoroughly professional team to work with.
Tell us about your character in Shuddh Desi Romance…
This character is poles apart from me. Tara is like an alien to me as an individual. I mean, I had absolutely no connection with her at the beginning and I kept asking Maneesh why he put me in the role. Don't get me wrong – she's very real and someone like her exists in real life, absolutely, but I'm not a very social person and I had no reference to someone actually like her for me to mirror. I have a small circle of friends and none are like her. So Maneesh and I would endlessly discuss how to create her and we would do a lot of impromptu scenes. It was very nerve-racking for me. It took me a lot of time to get into the skin of this character, especially as I needed to be convinced. But all this was during the reading and preparatory stages. When I came on the sets, I somehow got into it all and blindly followed the vision of the director.
Do you feel that in acting you've found your calling?
Yes, I really loved the process and thoroughly enjoyed it. Now I feel that I'll be hopeless if I wasn't an actor. There are two things that really interest me in life: one is watching movies and the other, eating good food. Getting this opportunity on the other side of the camera was a dream come true.
The Yash Raj Films connection is strong…
If not for Yash Raj Films, I may not be an actor at all! I wasn't really looking to be in just any movie. I knew it in my head that I wanted to do something that interested me. It's not that I was being too choosy, but the truth is that I have grown up viewing and loving Yash Raj Films. The kind of films they make already saw me as a loyal audience member and I always related to them, so the fit is perfect.
The subject of Shuddh Desi Romance is not the clean cut family type…
I don't see it as being controversial at all. It is purely entertaining and yes, it is new subject that has not been explored in Bollywood films. It speaks of modern love, infatuation and live-in relationships. All these are parts of society nowadays, in India and the diaspora.
You got to work with the gorgeous Sushant Singh Rajput. Tell us more…
Sushant is a very quiet as a person. He has his days when he pulls my leg, especially when he's in a good mood, and other days when he's extremely introspective. He's not generally very talkative or loud. But when the camera rolls, his talent shines. He is a fantastic co-star, with absolutely no airs about being so successful on TV or his high profile outings in films like Kai Po Che!, especially with me being a raw newcomer.
Working with the vivacious Parineeti Chopra must have been fun…
Oh yes, she is very friendly and lights up the room! She loves to talk and she's the opposite of Sushant. I get on very well with her and am loving this promotional tour for the film, as we're having a blast. We're in the same age group and have a lot in common.
What was it like to work with Aditya Chopra?
He is just amazing and I have so much respect for him. Whenever I meet him, I make it a point that I don't talk incessantly. I observe and learn from everything he says. His words make so much sense, even if he says little. He gave me this opportunity for which I am very thankful.
You're in the Tamil and Telugu remake of Band Baaja Baaraat, entitled Aaha Kalyanam, also by Yash Raj Films?
Actually, we're talking about whether this name should be the title. But yes, I am in the remake and this could be called the working title of the film.
And you star in this alongside the actor of Makkhi/Eega/Naan Ee, Naveen Babu Ghanta aka Nani?
Yes, I will be. I've only seen bits and pieces of Makkhi on YouTube, to pull his leg. He's very famous in the South. But I have not seen his famous film about the fly, not in the native language of the original film: Telugu.
Have you begun to study Tamil and Telugu for this remake?
I don't have any professional training in Tamil and Telugu, but I will be learning as I go along. I know some words, like konjam konjam and eppadi irukreenga in Tamil.
Can you tell us about your role in the film? Will be change a lot from the original?
It will be different from the original BBB – what with this being a South remake, the cultural sensibilities will be celebrated, especially with body language. Nani and I have been discussing how to make it a bit more unique without deviating from the original essence of the film.