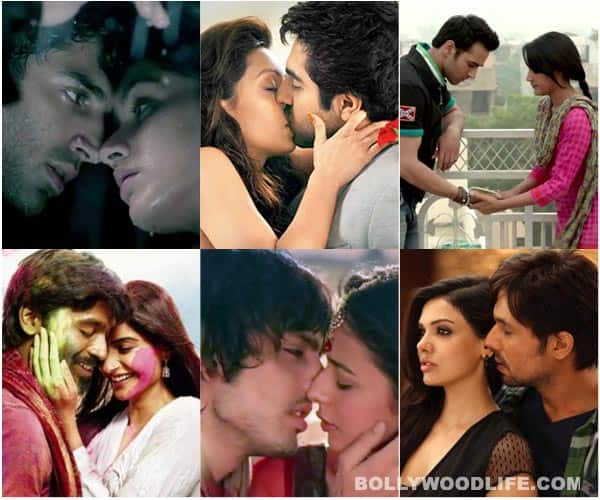 On this day where we celebrate love, let us have a look at some of the most romantic songs of the past year. Some might make you cry, others might get a smile on your face, but they all would definitely make you fall in love all over again. Read on and feel the love in the air…
Mera mann kehne laga (Nautanki Saala)
Written and sung by Pakistani musician Falak Shabir, this is a dreamy romantic number. It is a soft, guitar-based acoustic number and has been sung with earnestness. It's easy on the ears and hooks you on till the end. The lyrics are so apt that they make you believe that falling in love is a slow process but eventually it would happen. If you are trying to express your love to your beloved and are unable to do so, this is the perfect track for you.
Tum hi ho (Aashiqui 2)
Most of tracks from the film are romantic but it is Mithoon's contribution Tum hi ho that undoubtedly is the best in the entire album. To compliment his brilliant composition is Arijit Singh's heavy and deep voice. The song is soulfully expressive, exceptionally heart-touching and literally dripping with melody. It is like old wine which keeps getting better with each subsequent hearing. If you are away from your beloved then this song would make you remember her even more.
Ambarsariya (Fukrey)
It is one of the sleekest romantic tracks of the past year and had a perfect folk feel to it. The romance between the harmonium and the guitar lend this composition a breezy smooth feel to it. The sonorous raw vocals are so enthralling that not for once does the music overpowers the singer's voice. Sung by Sona Mahapatra, this Ram Sampath composition takes you through the lanes and by lanes of Old Delhi and makes you believe in childhood romance all over again.
Yun hi re (David)
Anirudh Ravichander of Kolaveri di fame and Shweta Mohan's song takes you on a romantic high. The sound of flute and other classical instruments play a pivotal role. This song gives you the perfect feel for cuddling your beloved. At the end when the instrumental takes over you get that perfect mushy tinge. The song is very soulful and super romantic. If you want an emotional reaction in your darling, this is the perfect track.
Baarish (Yaariyan)
Sung by Mohammed Irfan and Gajendra Verma, this song has very strong lyrics and the music compliments it pretty well. The poignant lyrics give it that ultimate special touch. If it's raining and you are unable to go out partying, this is the perfect song to listen while sipping hot coffee with your beloved.
Teri jhuki nazar (Murder 3)
Shafqat Amanat Ali's prowess is very well defined in this love ballad which is equally supported by the composition and the lyrics. The song is so beautiful that it makes your heart skip a beat. The romantic flavour of the track gives you a very mellow feeling. The superb soft stringed guitar strumming coupled with lofty drum kicks make this soft romantic number a perfect duet dance number.
Tum tak (Raanjhanaa)
Javed Ali's soulful rendition is the perfect way to propose someone. This is one of the best mushy tracks composed by AR Rahman. The song shows how much a person can be obsessed with his/her lover. The jugalbandi of the shehnai and the tabla give this composition a spiritual touch. The song is loaded with love and passion and the local flavour has been added adequately. The number has so many different shades to it that you can make it a must listen for all romantic occasions.
So go ahead BollywoodLifers, listen to these tracks and let us know your pick. Wishing you all a very happy Valentine's Day!