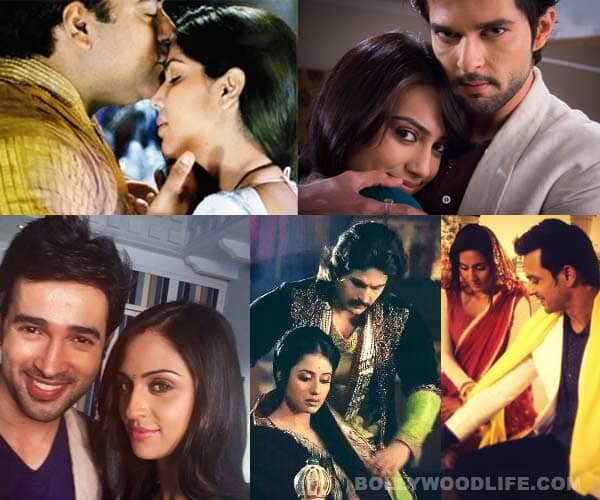 It's the month of love and TV channels are cashing in on the moment
Daily soaps like Qubool Hai, Bade Acche Lagte Hain, Jodha Akbar surround around the romance, chemistry and biology between the lead pair. However on Valentine's Day the love quotient goes up by several notches. Not that we are complaining, 'coz frankly that's about the best thing in these shows, don't you agree folks?
Qubool Hai: Asad (Raqesh Vashisth) and Zoya (Surbhi Jyoti) are planning a wedding opposite the Taj Mahal. There truly can't be anything more romantic than that. The moment itself is beautiful and heartwarming. It will indeed look marvelous even in pictures, no? This special episode will be aired on Valentine's Day itself.
Jodha Akbar: The couple has finally moved from hating each other to falling in love. Akbar (Rajat Tokas) has already proclaimed it in his prayers when Jodha's (Paridhi Sharma) life is at stake. The makers are truly smart. In order to cash in on the Valentine's Day, they picked the right moment to show love blooming between them. Smart move!
Ekk Nayi Pehchaan: It takes time to fall in love in an arranged marriage, but when it does happen every moment lasts a lifetime. Sakshi (Krystle D'Souza) and Karan (Karan Sharma) are going through the same little and novel experiences. With Valentine's Day around the corner (in the show) the couple will be making it special. Now doesn't that just make you smile?
Meri Bhabhi: Finally the family has given their approval to Shraddha (Kanchi Kaul) and Kunal's (Ravish Desai) relationship. They no longer need to sacrifice their love for the happiness of their family. Their eyes meet and sitting in front of your TV screens, you will feel the romance. Apparently, Kunal has something very extravagant and beautiful planned for his love on Valentine's Day. Wouldn't you like to know?
Bade Acche Lagte Hain: Who says romance is for the young? Ram Kapoor and Priya (Sakshi Tanwar) take romance to a whole new level. It's true that the couple is fighting and arguing over trivial things, but their protectiveness and love for each other never goes amiss. It's almost infectious; don't you agree?