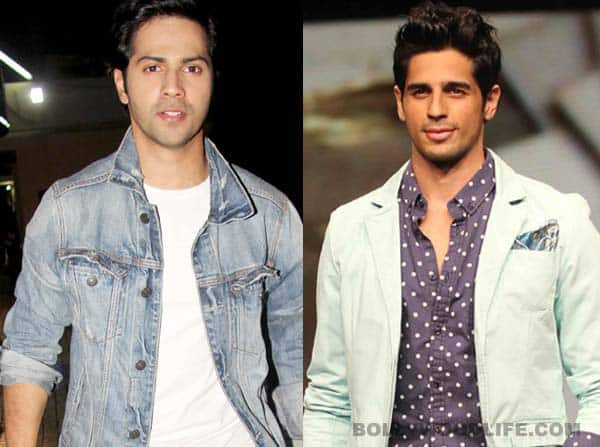 Launched together in Karan Johar's candy-floss college drama Student Of The Year, both Varun Dhawan and Sidharth Malhotra proved to be successful with their second outing –Hasee Toh Phasee and Main Tera Hero-respectively. We spoke to film trade analysts to know who they think is the proverbial lambi race ka ghoda among the two!
Sidharth Malhotra and Varun Dhawan are slowly, but surely emerging on the Bollywood map as the promising talents. After making their debut in Karan Johar's Student Of The Year the two good-looking actors have delivered one successful film each. While Sidharth's performance in his second outing in Hasee Toh Phasee was cute as well as commendable, David Dhawan's son Varun got a warm response to his second movie Main Tera Hero. We spoke to film trade analysts and experts two know who among the two has a brighter future.
Sidharth Malhotra
Films released: Student Of The Year, Hasee Toh Phasee
Opening weekend figures of the last film: Sid's romantic comedy Hasee Toh Pahsee co starring Parineeti Chopra raked in Rs 4 crore on the opening day in India and showed consistent growth at 35 percent over the next two days. The first Weekend collection was approximately Rs 18 crore.
Forthcoming movie: Ek Villain
Trade Talk: "Only numbers can't prove your talent but such is the irony that newcomers have to prove their talents to woo producers, directors and exhibitors by showing that they can get audiences in," said trade Analyst Akshaye Rathi. He also added " Sidharth did exceptionally well in Hasee Toh Phasee. He is dabbling in different zones and by choosing a project like Ek Vilain, his forthcoming movie, Sid has proved that he likes to experiment and will not be slotted into a certain category. It's good to see that Sid wants to do his acting do the talking and not just his exceptional looks.
Trade Pundit and popular movie analyst Komal Nahta maintains that Sidharth's forthcoming movie is not exactly experimental. "It seems and-out-and out commercial film so I don't think there's any risk involved. And Sidharth has proven himself as a promising talent so he can show variations in terms of his acting. Going by his previous success one can say that he will pull crowds even by portraying a villain. Didn't Shahrukh Khan pull crowd as a villain in Baazigar and Darr? It can work for any actor if the film is good," maintains Nahta.
Varun Dhawan
Films released: Student Of The Year, Main Tera Hero
Opening weekend figures: David Dhawan's beta enjoyed a warm response to his second film Main Tera Hero co-starring Ileana D'cruz and Nargis Fakhri. Though the film had an average occupancy, it went on to collect Rs 20 crore in the first weekend.
Forthcoming movie: Humpty Sharma Ki Dulhania
Trade Talk: " Varun is like the flashy stars of '90s. His approach towards his craft is bold and blatant. He plays to the galleries and is consolidating his position as a loud and colourful hero. He is proving the point with his forthcoming movie Humpty Sharma Ki Dulhania. He is creating a zone for himself which is largely defined by who he is in real life, at least partially if not entirely" opined Akshaye Rathi.
Komal Nahta believes that Varun has made it on the account of his own talent. He is young, energetic and charming. "In today's times being from a film family alone doesn't make you a star. Varun is a promising actor. I believe both Varun and Sidharth will stay here even if they take risks and even if they deliver a couple of flops-if ever they do-for they have created a fan-base for themselves," said Nahta.
In a nutshell, both stars are doing well at the moment. Their fate at the box office and their popularity is driven by choices they make as well the way they handle their PR machinery, their branding mechanism and various media vehicles. " One must remember that these are not big stars who can take big risks, but yes they can make smart choices to move up the ladder. At the moment the future looks bright for both Varun and Sid," concludes Rathi.