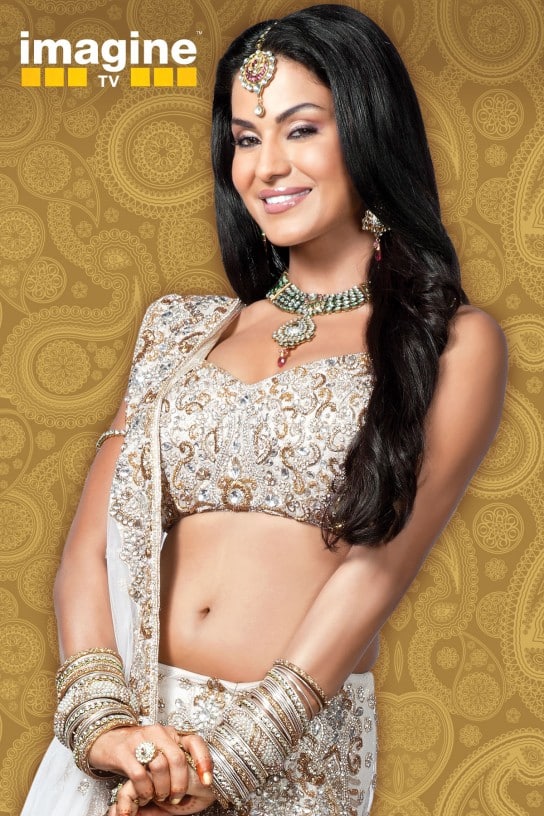 The Pakistani babe who made her entry into Indian television with Bigg Boss 4 says she is ready to believe in love again
Veena Malik is trending again, thanks to her nude photograph on the cover of a prominent leading magazine doing the rounds. Ask her about it and she refuses to talk about it. All she is willing to say is, "I have never posed nude in my life. I am going to take legal action against the magazine. I have always stood for the right things in my life. Today is my big day and I don't want to ruin it by talking about this." Big day as it is the announcement of her Swayamvar. Veena is the latest celebrity – after Rakhi Sawant, Rahul Mahajan and Ratan Rajpoot – to feature on Imagine TV's show Swayamvar-Veena Ka Vivaah. She has decided she is ready to get married and that too on a public platform, regardless of the claims Rakhi has been making about her. As she flicks her hair and switches easily from Urdu to Hindi to English and back again, Veena talks about love, Pakistan and kissing Ashmit Patel.
On her female predecessors opting to not get married on the show…
I don't know what happened so I won't comment on their decision. I am genuinely hopeful. My intentions are to get married, but the guy has to have the guts and be worthy of me. I won't get married for the heck of it.
Qualities she is looking for in her Mr Perfect
His religion and nationality don't matter. Love tops the list. It has to be pure, pristine and unconditional. Then comes money. He has to be able to take care of me. Then comes looks. He has to be good looking. His shaksiyat (character) is important. There is a long list actually, but if he has these three qualities, then I can compromise on the others.
Biggest turn offs
Hyprocrisy. It really irritates me. And bad breath. I can't stand it.
Searching for a groom on national television
I had my apprehensions initially. I took six months to sign the show. My father was the most excited about the show. He said I may find my Mr Right on this platform. I too thought it was a good idea as I will get to meet guys from all over the globe. And the tasks that are specifically designed by psychologists are such that the boys' true nature will definitely be revealed. In real life, you can never tell if someone is faking it. I've had two relationships and both failed because I was unable to judge them. So I really believe nothing could be more perfect than this platform.
On her Bigg Boss 4 flame Ashmit Patel
Ashmit and I liked each other. We must have kissed about a 100 times on the show. We still like each other and are good friends. If I am ever in any trouble or want to talk, I call him first. I have not spoken to him about the show yet as he is not in India now. If he wants to be a part of the show, he is welcome.
On potential objections from Pakistan
Pakistanis love Bollywood and Indian culture. More people wear saris than salwar kameezes there nowadays. I have not had problems from politicians or from the public. The small section who has a problem does not represent the entire Pakistan. I've met them and cleared their misunderstandings. I can never please the whole world and that's not my intention either. Whatever I have done, I have done after giving it a lot of thought. My relationship with my God is personal. I've always followed the rules of the country I am living in.
Rakhi Sawant claims no one will watch her show because she is not an Indian…
(winks) Rakhi? Who's that?