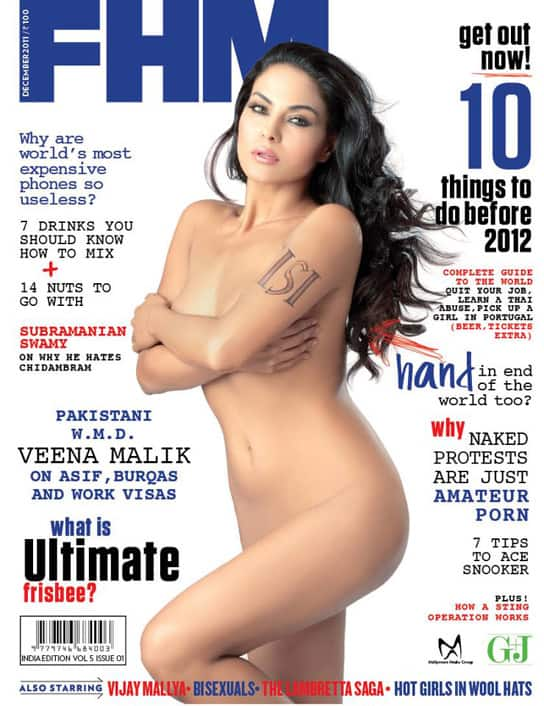 Pakistani bombshell Veena Malik, who became a rage during her stint in Bigg Boss, has now gone nude for the cover of FHM magazine
Hot, sensuous and seductive; Veena Malik definitely knows how to keep her fans on tenterhooks. After her long affair with Pakistani cricketer Mohmmad Asif and her now-on-now-off relationship with Ashmit Patel, the bootilicious babe became the controversy queen. Veena has been in talks with several production houses for a Bollywood project and will be making her debut in Bollywood in 2012 with Dil Mein Kuch Kala Hai. She is also in the news currently for going groom hunting on national television in Veena Malik Ka Swayamwar. And now there's a new one. The gutsy girl has bared it all for the cover of FHM magazine's latest issue. One thing that struck us was the 'ISI' tattoo on her right arm. Is Ms Malik trying to make some kind of statement through it or is it just another way of creating controversy? And that's not all, this issue also has Veena talking on controversial subjects like burqas, visa troubles and more. The photograph has been shot by ace lensman Vishal Saxena. As far as we know this is the real thing, but we wait for Veena Malik to start protesting.
PhotoCredit: FHM Magazine Cover
 ALSO READ:
Vidya, Asin, Sonakshi…now Anuskha – how far will celeb morphing go?