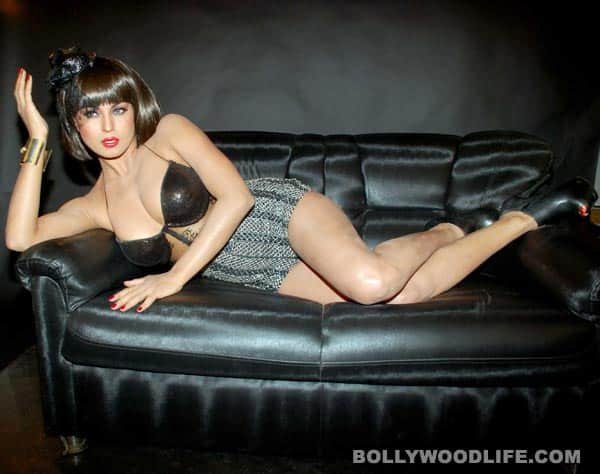 The Pakistani actress will be seen with ex-flame Ashmit in director Navin Batra's film Supermodel and if you are expecting steamy scenes and liplocks, you won't be disappointed. After all, that's the forte of this controversial couple, hai na?
Veena Malik and Ashmit Patel parted ways soon after the fourth season of the reality show Bigg Boss ended. However, the duo decided to work together in Navin Batra's Supermodel (which is a B-grade version of Madhur Bhandarkar's Fashion, wethinks) and despite not being on talking terms, they agreed to do intimate scenes….all for the sake of the script, we presume. In fact, Veena and her once-upon-a-time boyfriend share four long kissing scenes in the film. But that's not what has us raising our eyebrows. It's Ms Malik's statement that caught our attention and we didn't know whether to laugh or feel pity for her. The babe said in a recent interview, "It was very tough to shoot intimate scenes together… I have never been through such trauma. A person you talk to every day is so close and then you are not even looking at each other. During the shoot of the movie we weren't talking to each other – we had a cold war going on."
It's hard to believe, since we still remember how the two were so close in the Bigg Boss house and had no problems getting intimate on national television. We all can clearly visualise – but do we want to? – the hand holding, the…err…massages and all that smooching that happened in the madcap house. There is in fact no way we can forget, coz that's what the two did most of the time as we switched channels to avoid it as much as possible. So with so much experience and familiarity, we wonder how it could be tough for Veena to replay those scenes. And if it really was, she shouldn't have agreed to do those sequences with her ex at all, no? But if if she did say no, it would be impossible for her to survive in B-town and bag films, 'coz as far as acting is concerned, she needs lessons…and how!
Now for the 'trauma' part – wethinks that's something the audience will go through if they dare watch the film. Hai na?