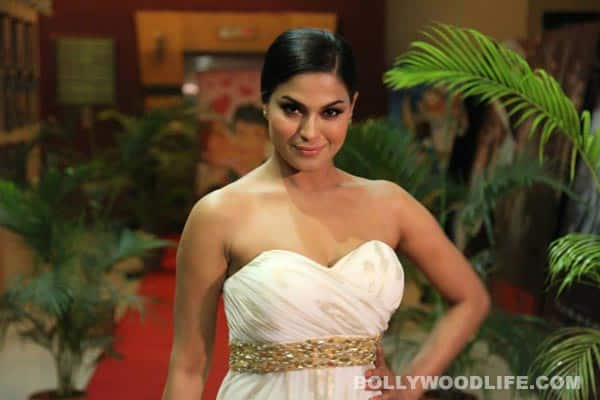 The Pakistani import with a notorious reputation tried every possible trick in the book to look elegant. Alas…Veena's raunchy facial expressions defeated her desperate attempt to come across as a classy lady. Take a look!
Veena Malik is hoping against hope to be something she cannot possibly manage. After playing the raunchy, garishly-dressed, desperate-for-attention gal all her existence in B-town, the babe is suddenly trying to discover her classy side. At the premiere of her movie Zindgagi 50-50, Veena turned up in a white strapless gown. With a heavily embellished belt, she tried to squeeze her generous waist to look slimmer and even changed her hairdo to aim for that elegant look. But her desperate attempts were in vain. She ended up looking like a fast submerging steamy-movie star.
Veena is playing a sex worker in Zindagi 50-50 and going by the way the babe posed for the shutterbugs at the movie's premiere, it seemed that she just could not pull herself out of her screen character. What went against her here was her posturing and that raunchy, naughty look on her face, which successfully marred Veena's 'make-me-look-sophisticated' mission. The kohled eyes and the smirk on her face made the babe seem titillating and suggestive .
Now c'mon Veena, you need to understand, babe. No one can change his or her true personality overnight. After indulging in some wild adventures all along, you can't suddenly turn up on the red carpet and look like an elegant angel….no?