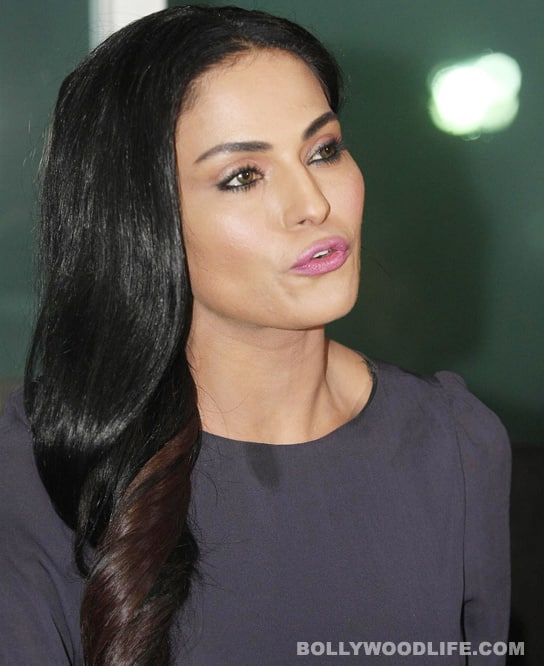 Ms Malik's hunger for publicity is finding new depths. How crass can one get?
After Poonam Pandey's Holi video, we were unlucky enough to come across another one by wannabe diva Veena Malik. One look at her in the video, and the question that pops up in our mind is 'What in the world is this girl trying to do?!' And we're sorry to inform that it's a question which finds no answer even till the end of this funnily cheap video.
The video in question contains the Pakistani actor dancing with two tipsy fellas on a (supposed) item number, 'Madam Malai', from her forthcoming film Dal Mein Kuch Kaala Hai. And while at it, Ms Malik shakes her stilletoed feet to steps which, sorry to say, aren't really appealing. But then, what else should you expect from Veena in 'Holi' mood, no?
What really caught our attention was the backdrop –a parking lot. Unable to find a suitable stage to flaunt her talents, wethinks Veena was forced to zero in on a sneaky corner of a dingy parking lot in Mumbai. Tch tch. So much for being an item girl. But hold on! We're not done mulling over the video, yet. After looking at Veena gyrating in such a tacky way we couldn't help but wonder about the plights of prospective grooms who had showed interest in her 'Swayamvar'. Sigh! Where is dear Veena Malik heading? Watch the video and tell us if you like it or not!
[jwplayer mediaid="86011″]