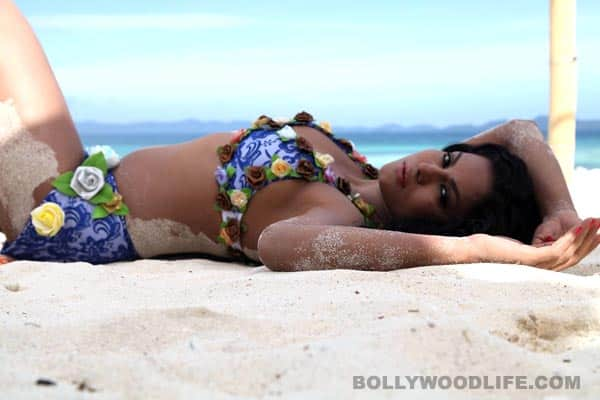 It's not a remake of The Dirty Picture at all. Much of it is a skin show by Veena Malik and little else
Those who go to the cinema halls imagining that Silk – Sakkath Hot Maga is a remake of the Bollywood hit The Dirty Picture, are in for some disappointment. For, the Kannada film has nothing to do with the film or the late actor Silk Smitha; it's a completely different story about a wannabe actor called Silk.
Silk tells the story of a village belle called Vijayalakshmi (Veena Malik) who dreams of becoming a big actor in Sandalwood. She comes to Bangalore, falls into a trap and lands up in a brothel being run by Ammanni. There she earns the name of Silk and becomes one of the most popular names. She meets a rowdy-sheeter called Shivaraj (Akshay), they slowly grow close and eventually get married. What follows, makes up the rest of the film.
The story line cannot be faulted, but the treatment turns the films into an adult-rated entertainer aimed only at the masses. There's an overdose of skin show and you can't help but think that that's the only reason Veena Malik was roped in for the role; no other actor in Sandalwood would have made such a daring attempt. A poor screenplay also hampers the film and it ends up being tad boring.
Veena's much-anticipated debut in Kannada is a huge disappointment. Though she pulls off the bold scenes, she doesn't impress otherwise. The performances by others like Akshay, Sana, Srinivasamurthy and Sadhu Kokila pass the muster. Though Akshay doesn't have meaty role, he proves that he has matured as an actor through this film. Songs by Jessie Gift are good. Jai Anand's cinematography is nothing to write much about.
Director Trishul had announced that Silk – Sakkath Hot Maga is for the family audience. But his film is too hot for the family crowd and can only be enjoyed by the frontbenchers.
Rating:
out of 5
Reviewed by India Syndicate
* Poor
** Average
*** Good
**** Very good
***** Excellent