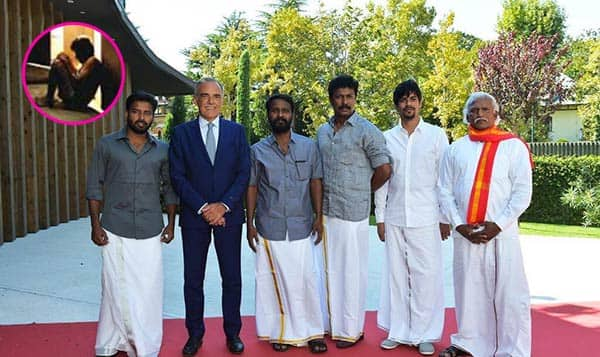 As we all know it was a big day for the Tamil Industry last evening, as Vetrimaaran's Visaranai became India's official entry to the Oscars 2017! It was a moment of pride for the entire team of Visaranai, right from the director Vterimaaran to the producer Dhanush and his WunderBar Production team. The film was chosen from reportedly 29 contenders and that itself is a big deal. The movie is a hard-hitting take on police brutality, based on an auto rickshaw-turned writer Auto Chandran's novel Lock up. It's about how the writer was in lock up for 13 days and was tortured for a crime he didn't commit. In reaction to the this big announcement, here's what Vetrimaaran had to say to a Iflickz, ""We are thrilled of course. This is a huge honour. But it's a totally new journey ahead of us in the next few months. We are totally new to this and have a lot of learning to do. We are gearing up now to face this next juncture the movie is taking us to. Being declared the official entry, is the first step." Also Read: Dhanush is elated over Visaranai's entry to the Oscars-check tweet!
"We will have to do a lot of different ground work since the Oscars are a totally different ball game." he further added. As for the writer of the novel, on which the film is based,  he was over the moon on hearing the news, "I'm filled with joy and pride. This honour has brought glory to my status as an auto driver in the society. This story of the defenceless deserves worldwide recognition," He also believes Dhanush and Vetrimaaran deserve all the credit "It is through the efforts of Dhanush and Vetrimaaran this story was widely appreciated. The film, I'm told, still hasn't yet reached its destination, with two more rounds to go. We have a long way to go," Also Read: 5 things about Dhanush's Visaranai you need to know right now!
In fact, Dhanush announced the bg news on social media as well. He talked about it being a proud moment for the entire team of  Visaranai, and of course, adding to it were the positive reviews, he received for his film Thodari that released yesterday. Kamala Haasan's Hey Ram was the last film to enter the Oscars in 2000. For all those who don't know, Pridarashan's Sila Samayangalil has been chosen as one of the contenders for the Golden Globe 2017!
(with inputs by IANS) (photo courtesy: CochinTalkies)