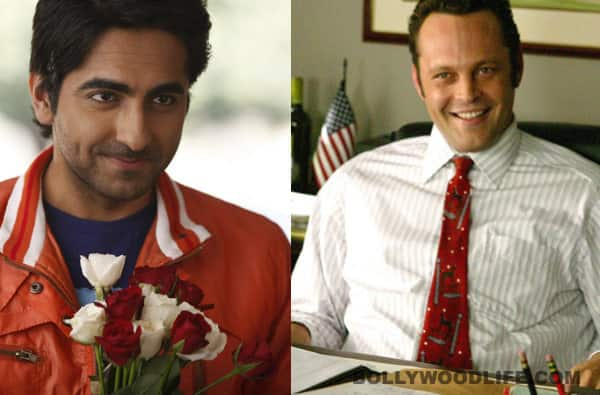 The Wedding Crashers actor is going to star in a movie about a sperm donor. Doesn't that remind you of Ayushmann Khurrana's debut film?
As reports about Vicky Donor's strong box office run filtered in, something else caught our eye. Hollywood actor Vince Vaughn is in talks to play a sperm donor in a film to be produced by DreamWorks. Our first thought was: wow! For once, is Hollywood going to rip off a Bollywood movie? Is it payback time for all the times we ripped off their ideas? Just when we were rubbing our hands in glee, we caught a glimpse of the story.  And our happy bubble burst.
Vince's film is the official remake of the French-Canadian comedy Starbuck. Relax, we are not claiming Vicky Donor is an unofficial remake of the film. In fact, there are enough differences in the story line to make even the most cynical Bollywood filmgoer admit that for once we have afresh idea. Starbuck tells the story of Danny, a middle-aged man who is a loser in almost every aspect of his life. His past life as the mysterious sperm donor Starbuck comes back to haunt him when 152 young adults born from his sperm file a suit to learn his real identity. Ironically, his lover, who is pregnant with his child, walks out on him. Danny then tries to get involved in the lives of the young boys and girls who petitioned him without revealing his true identity. Vicky Donor's plot is completely different (we won't reveal any spoilers here).
While it makes us glad that this means the Ayushmann Khurrana-Yami-Gupta-Annu Kapoor-starrer was not a lift from the comedy, it also saddens us that Vince's film is not going to be a direct copy of VD. We'll have to wait a lot longer to witness Hollywood copying us. What a shame.