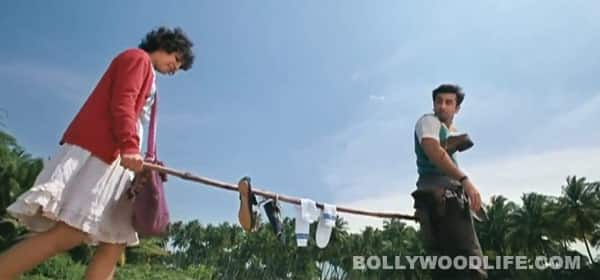 Cineswami reveals the various films Ranbir Kapoor's Barfi! was stolen from. Curious to know more? Then, read on and checkout the video!
Last week, Cineswami reported the striking similarities between Mani Ratnam's Thiruda Thiruda and Anurag Basu's Barfi!. It has now emerged that much of Basu's well-reviewed film is a pastiche of scenes blatantly copied from a variety of films across the world. Treat this as a spoiler alert but it shouldn't matter, as you shouldn't be spending your hard earned money supporting thieves anyway. There is an ongoing debate saying that the fact that the film is copied shouldn't matter if the end product is good. The real issue is this. Is Bollywood so bereft of ideas that the industry has to steal all the time?
Anyway, here is the laundry list of Barfi! inspirations:
Overall, the plotline bears resemblances to Hollywood film Benny & Joon (1993) and Korean film Oasis (2002).
One of the recurring musical themes in Barfi! has been cobbled together by Pritam from two tunes composed by Yann Tiersen that were used in Amelie (2001).
The bank scene in Barfi! where Ranbir evades Saurabh Shukla via a sliding door is from the 1917 Charlie Chaplin short The Adventurer.
The scene where Rupa Ganguly shows Ileana D'Cruz her former boyfriend is from The Notebook (2004). The scene towards the end of Barfi! where Priyanka Chopra snuggles up to Ranbir on his hospital bed is also from the same film.
The scenes of Ranbir getting a twisted nose after he bangs into a door and that of him entertaining Priyanka with a dummy on a sofa are both from Singin' In The Rain (1952).
The scene where Ranbir wakes up under a covered statue that is being unveiled is from Charlie Chaplin's City Lights (1931).
The scene where Ranbir tries to get rid of a sticky bit of paper while putting up posters in Kolkata is from a Mr Bean episode titled Back To School.
The scene where Ranbir keeps a nail on the road to stop a passing car is from Kikujiro (1999), down to the shape and size of the nail and the framing of the shot. Incidentally, Myshkin remade the entire film in Tamil as Nandalala (2010), an un-credited remake, of course.
The ladder on a wall gag while Ranbir is evading cops is from the Buster Keaton short Cops (1922). The scene where Ranbir escapes by grabbing onto a bus is also from there.
The scene where Ranbir, on a bicycle, is being chased through narrow lanes is from the Jackie Chan film Project A (1983).
The recurring shots of a hamster in a cage are from Black Cat, White Cat (1988).
The scene where Ranbir is ogling a Sadhu's crotch is from an advertisement for a Swedish newspaper.
The scene where a pair of headlights rushes towards Priyanka only to be revealed as two bikes is from Mr Nobody (2009).
Ranbir entertaining Priyanka by sticking bits of paper to his eyes and tongue are from Mr Bean shorts and also Mr Bean's Holiday (2007).
The interrogation scene where Ranbir responds to a question that asks him to reveal everything by starting with his birth is from The Goonies (1985).
Ranbir and Ileana's goods train date where they distribute food to the needy is from Fried Green Tomatoes (1991).
One could go on and on. As the days go by, more and more people are coming forth with Barfi! sources. But all credit to Sputnik and his band of merry men for getting the ball rolling.
Mera Bharat Mahaan.
Watch video: the scene by scene comparison!
[jwplayer mediaid="146583″]
ALSO READ: Ranbir Kapoor and Priyanka Chopra hope Barfi! makes it to the final round of Oscars!