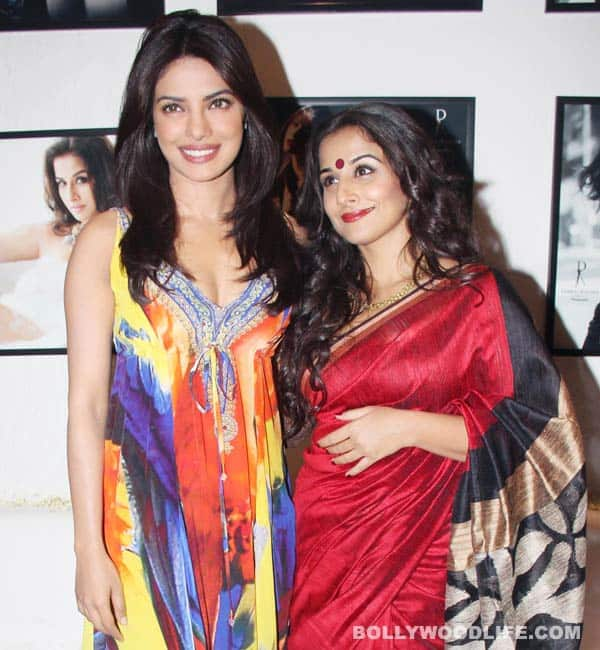 The Kahaani actor had great things to say about PeeCee during a live chat with her fans hosted a magazine recently
Vidya Balan is one of the most straightforward and candid leading ladies in B-town. So during a live chat with her fans for Filmfare, when she was asked which female actor she thought had done a great job recently, she said, "Priyanka Chopra was unbelievable in Barfi! Someone else could've gone over the top."
Vidya 'Silk' Balan's praise for PeeCee didn't stop there. She also went on to speak about the newly minted singer's first single, In my city. "I think Priyanka Chopra's album is quite cool," she said. Guess Vids is just returning the great compliments that Piggy Chops has been bestowing on her over the last year.
We all know that Priyanka has been praising Vidya for her The Dirty Picture performance. PeeCee said that Vidya was one of the gutsiest actors of today. "If you look at the numbers, Vidya is right up there. She is also one of the gutsiest actors. She is someone that I have admired for a very long time. And she is a friend of mine, so I can say that she is a really cool chick, and at the same time she is such a great actress. She has the guts to do the kind of films that she does and carries herself with so much élan. It's definitely something to admire," she said during the promotions of Barfi!.
The two have often been spotted sharing great vibes at public events and award functions. We also hear that the girls speak on the phone whenever they find the time. So it's not really surprising that VB had very good things to say about Priyanka and vice versa, of course. Great to see some genuine bonding and respect between two B-town heroines, no?