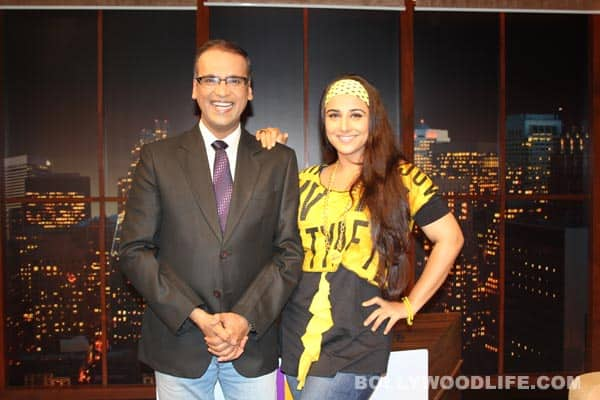 The Ghanchakkar actor recently appeared on trade expert Komal Nahta's popular chat show and spoke her heart out on various facets of her charming personality
Just when we thought that Vidya Balan cannot go wrong when it comes choosing films, the 34-year-old delivered a stinker at the box office. Her recently released movie Ghanchakkar, co-starring Emraan Hashmi was a complete disaster and we feel sad for Vidya for misjudging this time around. Just before the release of Ghanchakkar the fab actor appeared on film trade expert Komal Nahta's popular chat show ETC Bollywood Business. On the show, Vidya maintained that she is lucky that she has managed to portray different types of characters so far, and has also enjoyed the promotional spree for Ghanchakkar. "I feel fortunate to be a part of Ghanchakkar. There is always a contrast in characters in Raj Kumar Gupta's films. I completely enjoyed the promotion of Ghanchakkar, it was so much fun," said Vidya.
Vidya candidly admitted that she is a selfish actor who doesn't understand how the box office functions. "If the show is housefull in theatres then I am happy because that's the only thing I understand. I can't comprehend box office figures," added Mrs Kapur.
You can catch the entire interview on ETC Bollywood Business. The show airs at 8:30pm Monday to Friday only on ETC.