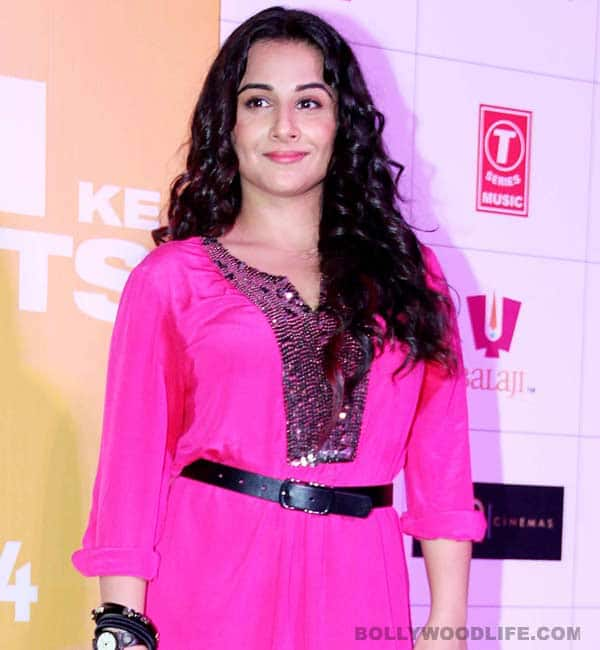 The Kahaani actor talks about her chemistry with her Shaadi Ke Side Effects co-star, her upcoming projects and more in an interview with Ashanti Omkar
How did you land this role in Shaadi ke side effects?
Actually, Rangita, daughter of Pritish Nandy got in touch with me to say she had a script which was a sequel to Pyaar Ke Side Effects (2006). She brought me the script, I read it and found myself smiling and chuckling through the entire thing. I asked to meet the director. I met Saket Chaudhary and I couldn't put the person and the script together, as he has such a serious demeanour. Whereas the script (laughs), it's almost ironic that he's written it. It's funny and it's strange and it is really a humourous take on marriage and relationships. The prequel is pretty much in that zone. He plays it interestingly. Things that people talk about when out with friends and double dates, but not seen in Indian films before, I'd say. I spoke to Saket and it all come together now (excited laugh).
An example or two?
Like the 'right side of the towel' scene that you see in the promos – the argument of which is the right side of the towel. So we're a typical urban, upper middle class working couple – a double income household and suddenly there is a surprise, an unexpected pregnancy and how this begins to really test the relationship we're in. In ways it can be defining, yet we make it that. Small little issues. Every relationship goes through tests and when you're going through it, it feels like a real ordeal, but actually, it may not be as big as we make out at the time. Especially to an objective third party and especially to audiences, I think they will see it as not being such a big deal.
Working with Farhan Akhtar, one of the most talented guys in Bollywood – do tell all…
Oh he's fabulous. Multi-talented to say the least! I was very excited to be collaborating with him on this film. I had people asking me before about when they'd see Farhan and me together on screen. We didn't know each other professionally or personally before this film. It did require a certain amount of familiarity to create the intimacy needed for this screen couple to have shared. As actors you're just expected to switch on and switch off. But you need to get along – being able to create and simulate that effortless familiarity. That's what happened with us. He's got a crackling sense of humour so there was an air of familiarity between us by the first two days of the shoot. I love to laugh, he loves to crack jokes so it wasn't that difficult. And we're both Capricorns, sharing the star sign which is my favourite theory on this aspect of chemistry.
You're both people who are married in real life – as actors, did you draw from real life?
I was married only two months when I started this film, so it would be wrong to say that I drew upon any experiences, but even if I did, I'm not aware of it, but it's such a relatable film. You seen men and women of all ages, having the same and similar arguments, at some point in their lives or the other. This meant that relating to the characters was the easiest thing for us, as well as the audiences I'm sure. And the credit does go to the director and screenwriters, who've done such a fabulous job. There was little for us to do beyond react to the script on set. Saket was very secure about the script and they gave us an open field to play around with, and they also allowed us to improvise with it all.
Vir Das is also in it…
You know, I've never met Vir, as a matter of fact and I don't share any screen space with him in this film. Maybe I'll meet him at a cast and crew screening.
Will we be laughing a lot when watching this film, or will it be about poignant moments for us to reflect on, as an audience?
I think you'll smile, you'll chuckle, you'll probably laugh and you'll see yourself in it, or someone you know well, as it really is so real. Couples who fight over nothing at all and it is a charming film, which is so akin to real life.
From Parineeta, Guru to Dirty Picture and Kahaani, you choose very diverse roles and fit into each like a glove – how do you do this so effectively?
I do take my time between two films and it does take time to get into it and then out of it. Only because at the end of a film, you're so attached to the person you've played, the person whose life you've lives, but I think that for me as an actor, I am literally someone who morphs, transforms into that character. I've had the opportunity to work with directors who make me forget me, at least temporarily, during the course of the film. It's a real high, when you donate blood once, you want to do it all the time. That is the effort most of the time, in moving between roles.
Who has defined you to become the fine actress that you are and have been, from day one?
I don't think that there has been one person but lots of performances over time. One of my earliest influences was Shabana Azmi. And Sridevi is like an encyclopaedia on acting. She's just marvellous. Besides lots of other performances and actors I've admired, that would be for another interview with you to go through.
With your South Indian roots, did you see many Tamil and Malayalam films growing up?
I've watched a lot of Malayalam films on TV and during the video revolution, as we'd watch as a family. Tamil cinema was something I was less exposed to but I have seen a lot of black and white Sivaji Ganeshan films. Malayalam, we've watched many over time. Also, Kamal Haasan films are another favourite for me. I've lost touch watching his films in the last few years, unfortunately.
Any chance you'll do some work in the South?
If I'm offered something exciting, I'm more than happy to do a film in any language. Maybe what looks like my being picky, is actually a bit of laziness on my part, to get involved with more parts and films (laughs out loud). I react instinctively, to scrips and to films and that seems to happen rarely for me.
What else is in your slate in 2014?
Well, I will be playing Bobby Jasoos, India's first female detective. I've completed work on it and I am very excited about it. Is is out later on in the year. It's by a new director called Samar Shaikh, produced by Dia Mirza, the actress and Sahil Sangha. I am also in Sujoy Ghosh's next untitled venture, which has Irrfan Khan and me. I'm very excited to be working with Irrfan – yet another Capricornian! I keep joking that Capricorns are the best (laughs)!
So when we spoke in depth, many years ago, you said you were keen to get on Twitter, but I'm yet to see you there?
Thank God (peals of laughter). I have nothing to say. I'm boring, I'm dead boring!! My films make me interesting – I'm boring otherwise. (Laughs). Let's just hope that I keep getting interesting films to do and let's just hope that I'm never on Twitter, as I think that will be harakiri (a Japanese term for torture) – the laughter continues.
Your favourite designer, as you sport the best sarees in the world, on red carpets the world over and have set quite the trend…
I love the saree – it's the most feminine garment and it suits every shape size, skin tone and every personality. I love feminine clothing and that's why I choose the saree most often. It is intrinsically Indian and it is the sexiest garment to my mind, so I wear it all the time. Sabyasachi is great with his sarees, but I must admit, that in Shaadi ke side effects, I've done Western clothing after such a long time. The character is an urban working women, who wears a lot of casual Western wear. Jayanti Bose has worked on my look in the film I am thrilled that I'm getting lots of compliments for the look.