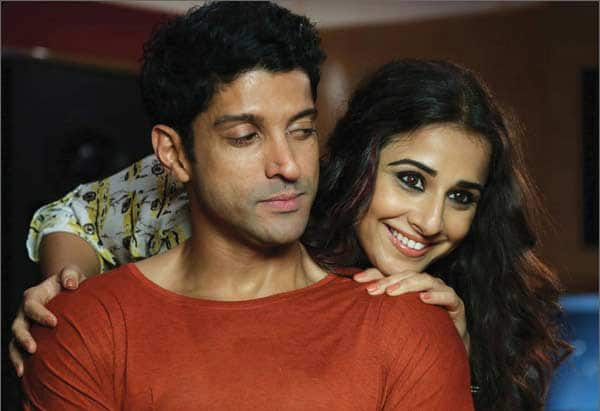 The Oh la la babe will be seen sharing screen space with Farhan in Shaadi Ke Side Effects for the first time. But shaadi does not seem to have any side effects for the two actors in real life…
Vidya Balan and Farhan Akhtar play a married couple in their next film Shaadi Ke Side Effects which has been directed by Saket Chaudhary. Since these two are married in real life, we thought they would have experienced all the side effects by now. But surprisingly there are none according to Vids and Farhan. Well, that's what they said when we recently caught up with them. While the Zindagi Na Milegi Dobara actor was at his wittiest best, Sidharth Roy Kapur's wifey too had us in splits with her sense of humour. Maybe that's a side effect of working with Farhan, hai na? Well, besides all the laughing and giggling, the duo spoke about everything under the sun – from marriage to flirting to success. Read on to know what Vidya and Farhan have to say
What are side effects of Shaadi for both of you in real life?
Vidya: I have been married for 14 months and Farhan has been married for 14 years so he should go first (laughs). The side effects of marriage are all good for me. At this stage, I feel I would recommend marriage to everyone. And side effects may not necessarily mean negative effects. In my case they are all positive side effects and I am enjoying being married.
Farhan: I think marriage is what you intend it to be. It's very intention driven. There is no relationship in the world which doesn't have its share of friction in every now and then. But if you want it to be successful then it will be. If you feel you're trapped and no matter how much pretend that things are great, it will be never great. So it depends on what two people want from each other. At times words are bit pointless. I think actions and just the life itself is self descriptive in terms of what I feel about marriage. So that should explain what my relationship is and what I feel about it.
How difficult it is for an actor to balance work and professional life. Do you think insecurities come in especially for you Farhan coz after the success of Bhaag Milkha Bhaag your female fan following has become huge?
My relationship at home should not change irrespective of what I was before doing a film and after it. But what's more important that people around should not change after what has happened to you. Coz if everyone starts thinking 'oh you're doing so well and we must treat you differently' then you never know what can happen. But I am fortunate coz even now my parents, my sister, my wife and kids treat me the way they did it ten years back. And that keeps me very grounded so as long as they treat me like that there is nothing to worry.
Vidya, after you got married you were offered two roles both of married women. Do you think this is a side effect of marriage for you?
I don't think coz my first film was Parineeta – The married woman. So I don't think my films have anything to do with my status off screen. It's a sheer coincidence that I play a married woman in Ghanchakkar as well as Shaadi Ke Side Effects.
Also, Vidya you played a loud Punjabi wife in Ghanchakkar. Do you think in real life too wives are loud?
Not at all! In Shaadi Ke Side Effects I play the role of Trisha and she is not loud at all. If she is angry then thoda chilayegi but otherwise she is not loud. In Ghanchakkar, the wife was loud mouth, she was garishly dressed and over the top. But Trisha is not like her. And this generalisation would be wrong that women are loud. We are more expressive and maybe even reactive then men. But that would also be a generalisation on my part I think.
Farhan became a star overnight after Bhaag Milkha Bhaag and Vidya you were doing this film with him at that time. So was there any change in your way of treating him on the sets?
Of course Bhaag Milkha Bhaag was a huge success but Farhan has been a star since 10 years now coz he started as successful director so my view about him wasn't any different.
Farhan did you see any change in Vidya' approach towards you?
Yes, she started treating me worse (laughs)
Vidya interrupts: Actually I want to say that he came on the set and told me 'now on please refer to me as Farhan sir and not Farhan. (Laughs) I am joking.
Is there any similarity between your spouses and the characters you play in Shaadi Ke Side Effects?
Farhan: There are no similarities as such. The script seems to be inspired by real life and the characters are very real characters. But Trisha is a very different person from Audhuna. So there aren't any comparisons.
In Bhaag Milkha Bhaag, a lot of women come in Farhan's life and he gets diverted from his goal/career. Does it happen in real life too?
Vidya: If you're in an insecure or an unhappy relationship then your focus may shift. But if you're happy then marriage only helps your work. I feel that shaadi ke baad mera concentration improve hogaya hai. There was restlessness in me which has calmed down a bit. And that is definitely helping my work. So I think it's about the kind of relationship you're in.
What do you miss about bachelor life after marriage?
Farhan: When you a bachelor, you're responsible just for yourself. But when you're married and have children, your every decision won't be just about you coz whatever you decide will affect your family too. So you have to think in that manner. But yeh badi obvious si baat hai.
Was it easy to play your part since you're married?
Vidya: I had just been married for two months when I started shooting for the film. In fact, I and Sidharth hadn't had our first fight till then. But this film is not just about shaadi ke side effects. Everyone will find certain similarity with what's happening onscreen with their lives and the people they know. I think it's very relatable.
Going by the promos of your film, Vidya you look very dominating. Are you in real life too?
Well, I do it subtlety in a way that no one realises I am dominating (laughs). But no I don't think I am dominating at all. I am not a pushover or dominating.
Farhan do you agree with Vidya's answer…
I have worked with her only in one film (smiles). But I will remember what has said.
Rahul Bose and Mallika Sherawat starred in the prequel Pyaar Ke Side Effects and you both are in the sequel. So what was the whole idea behind this casting decision?
Farhan and Vidya: We are gonna go out for dinner all four of us and discuss the side effects of working with director Saket Chaudhary (both of them burst out laughing)
Vidya, have your options have narrowed down after marriage in Bollywood?
I think in the past five years, the opportunities have been getting better and better. There better scripts being written. I think things have only gotten better career wise after marriage. So I don't think anybody looks at me differently coz of my status.
When will we see Farhan Akhtar the director back?
Let's see… it will happen. I can't say something now but not this year at least
How is flirting after marriage?
Farhan: It's the same that we all do. Nothing changes (laughs)
Vidya: To each his own but I think flirting is healthy as long as you know where to draw the line and each one draws his/her own line.
Farhan: I agree with her. It's a part of life but there has to be a certain line and certain dignity in each kind of conversation that you have with the other person. So it doesn't become uncomfortable for anybody.