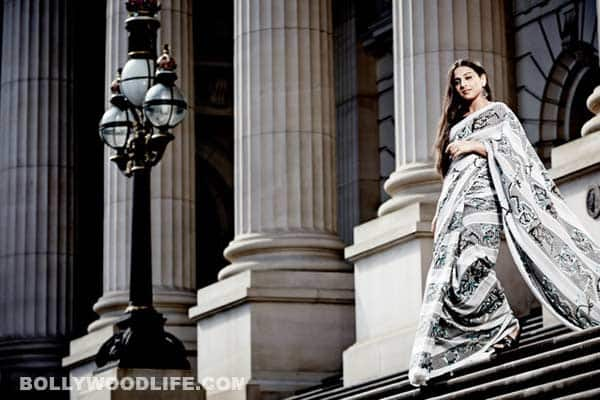 skip advertisement
The Kahaani actor recently did a photoshoot with Australia's celebrated designers – Akira Isogawa and Susan Dimasi
Vidya Balan, who is the festival ambassador of Indian Film Festival of Melbourne 2014 did a photoshoot with designers Akira Isogawa and Susan Dimasi. Akira Isogawa is the same person who designed Cate Blanchett's famous gown which she wore when she won an Oscar for Elizabeth.
For Vidya, the designer made a special dress which was an Australian-Japanese fusion. If you were to ask us, the dress made Vidya look heavier, unless she was trying to hide some bump behind that large dress. Wink, wink!
Susan Dimasi designed a special saree for the Shaadi Ke Side Effects actor. The saree was the result of hand weaving a textile with silk ribbon through a rubber net. The hand woven textile was exhibited at the prestigious Melbourne Now arts exhibition at the iconic National Gallery of Victoria and then draped on Vidya as a saree, said a statement.
Well, Vidya is known for making most appearances in sarees and you know, as well as we do that this Indian beauty looks lovely in sarees. Frankly, draped in this black and white saree, Vidya wasn't at her prettiest best but there's no denying that it flatters her curves. She looked bewitchingly beautiful with her hair let down unlike her makeup and hairdo while posing in Akira's outfit.
We think that Vidya could have done much better than this coz though she doesn't have an enviable figure, she has lovely features. Anyways, Bollywood Lifers, tell us which look do you like more? And are you impressed with Vidya's photoshoot?