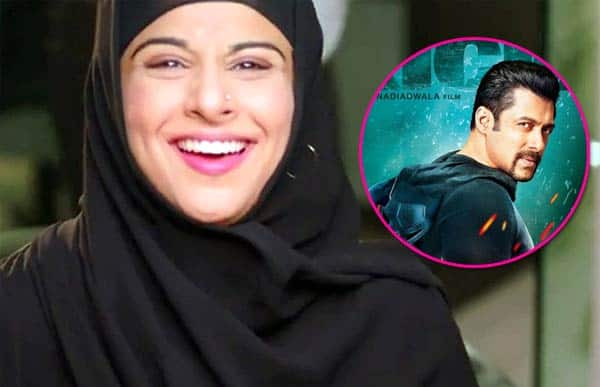 The Dirty Picture heroine did it again. Read on to find out how…
Vidya Balan is one actor who is known for getting into the character. So much so that she had donned many a different avatars in her last release Bobby Jasoos. But she seems to have taken her in-disguise look a bit too seriously. She was recently caught at a suburban single screen theater trying to watch Salman Khan's Kick in disguise. Courageous, hai na?
If we recall Madhubala was often known to slip into a burqa and go out to catch on various films. Vidya seems to be following her footsteps. She went to 7G to watch Salman's 300 crore blockbuster Kick wearing a burqa but it was her hubby Siddharth Roy Kapur who gave her away. Yeah, thats true. It is hard to believe that the cinegoers at a single screen were aware of how Sid looked and went ahead and asked him as to who the lady in burqa with him was.
Grapevine has it that the couple walked into the theatre unnoticed and settled in a cosy corner at the back. They were undisturbed till the interval as everyone's undivided attention was on Salman Khan. But as the lights came out, a few among the audience spotted Siddharth and were curious to know who was the lady in burqa sitting besides him. Some people even walked up to Siddharth to inquire, but before things could turn chaotic, the lights started to dim, forcing everyone to return to their seats. However, a few spectators, who were bitten by the curiosity bug, couldn't contain themselves for too long. Half an hour before the movie ended, they came back to quiz Siddharth on the identity of the mystery woman.
By this time, the couple sensed that the situation might get out of hand. So, to avoid any untoward incident, they chose to leave early. Talking to a leading daily an eyewitness informed, "About four or five people chased after them but they were not allowed to leave the auditorium." Vidya had informed the theatre officials before turning up for the show and they had a safety net in place. The owner of 7G, Manoj Desai, said, "We rushed them out of the back door.There was an elevator ready to whisk them off. " Vidya also confirmed the news, saying, "Haan, aisa hua tha but it was fun."
Vidya also did a similar act when her film The Dirty Picture released but unlucky for her that time too she got caught when she unveiled herself during the interval to talk to her father."This time, it was slightly better. She at least got to see much of the second half," added the source while speaking to a leading daily.