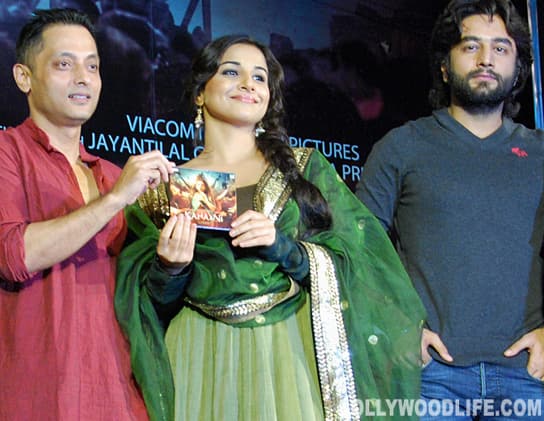 At the music launch of her film, Kahaani at the Kala Ghoda Arts Festival, Vidya Balan relived her moments of being a part of the audience
Ever since the trailer of her film Kahaani has come out, there is a lot of positive buzz about Vidya Balan and the film. The actor seems to have sunk her teeth into an author-backed role, where she plays the role of a pregnant woman who is searching for the father of the child that she is carrying. The makers of Kahaani, including director Sujoy Ghosh, made a smart move by choosing to launch the music at the popular Kala Ghoda Arts Festival in south Mumbai. The launch was attended by many music lovers and appreciated by all.
The crowd went berserk when Vidya Balan showed up on the stage and started screaming 'Ooh la la' – a song from her last film, The Dirty Picture – but she tried to stick to the film she was there to promote. When the enthusiasm of the crowd started dipping, she spoke about the days when she was in college and how she would hoot and cheer for anything and everything the celebs would say. This warmed the crowd up a bit, especially those who were studying at the same college as hers.
After Vidya, director Ghosh took to the stage and expressed his gratitude for those who were present. Finally, the music composer duo Vishal-Shekhar made it to the venue and caused a stir. Much to the disappointment of those present, the composers didn't sing anything from. After a bit of goading, Vishal hummed two lines of Ooh la la and also Aami shotti bolchi from Kahaani. The CDs of Kahaani were thrown at the audience who went back home satisfied. But one thing which was very apparent at the event was that the audience has still not gotten over Vidya's 'dirty' image. Let us know if you would like to watch her as a pregnant woman!
Click here to watch the trailer of Kahaani