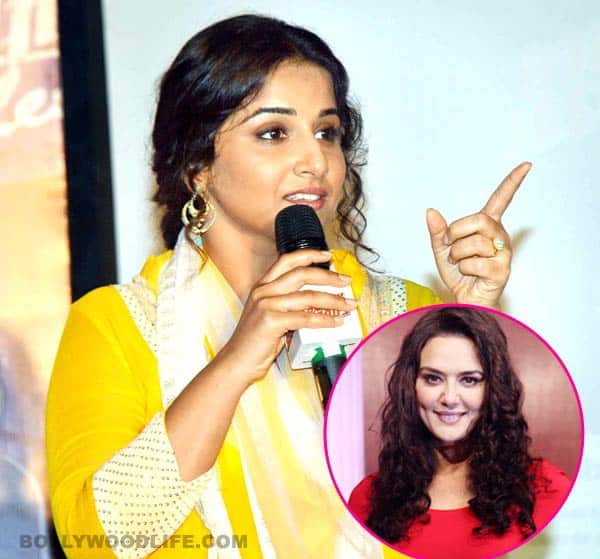 The Dirty Picture star takes a u-turn on  Preity Zinta-Ness Wadia controversy
Vidya Balan became a new addition in the band of Bollywood stars who chose to keep mum on Preity Zinta-Ness Wadia turmoil. The Kahaani actor shied away from the Preity-Ness controversy and refused to give her take on the currently most talked about issue in Bollywood.  
Vidya Balan who is on a promotional spree to publicise her upcoming film Bobby Jasoos,  interacted with the members of print media here on Saturday. When asked to comment on the Preity Zinta-Ness Wadia case, the diva refuted to comment on the issue. The Bobby Jasoos star quoted,"I have never known Preity Zinta. I have met her socially. I don't think it's my place therefore to comment".
On prodding her a little, the versatile actor added,"I really can't comment on it. I have been asked this question on TV and print, but only her closest people can support her. It's also really wrong to comment on the issue. Commenting is not supporting. So I don't want to comment on it ".
Only a few days back in an another event, Vidya spoke in support of  Preity Zinta. The Ishqiya star said," "I don't know the exact context of the case, so what can I say? Preity has always stood up for her rights, and that is great. If she felt it was the right thing to do, then it is the right thing. But full marks to Preity for having the courage. Why should anyone keep quiet if they want to speak up about it, or if they want to go to the police?"
So what is the reason behind Vidya Balan's u-turn on Preity-Ness issue? Is Vidya trying to play it safe to avoid further controversy? Whatever may be the reason, this Preity Zinta-Ness Wadia case has left the B-town celebs tongue tied.