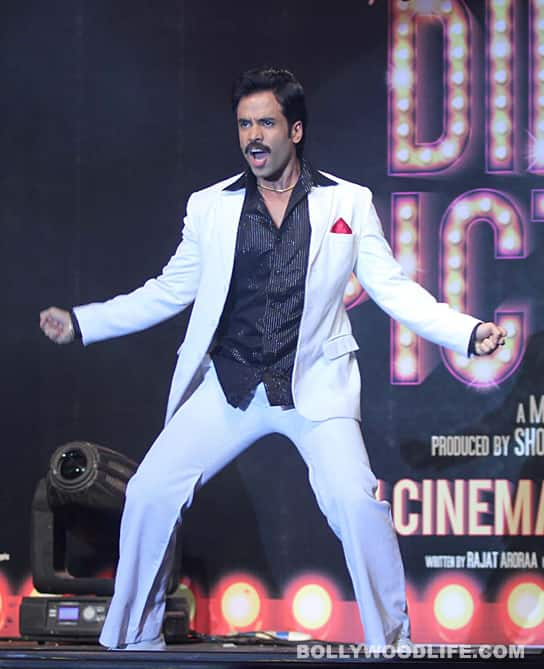 Ahem. So says the guy who admits his sister wanted him to date the Paa actor, a long time ago, during the Hum Paanch days
Didn't you know? Ekta Kapoor was hellbent on getting Tusshar Kapoor and Vidya Balan together all those years ago, but it just didn't work out! While that admission seemed to come straight from Tusshy's heart, the rest just fizzled out. Starting with his statement that The Dirty Picture is not based on Silk Smitha's life and that Vidya Balan is not playing the south siren. "The Dirty Picture is not based on anyone's life. It's just ek rangeen girl ki zindagi ki kahani (the story of a colourful girl). The media claims it is about Silk Smitha, but that's not true. It is based on that era, not on any one person," he says. And all these months, no one refuted the fact that the film is a biopic on Silk Smitha. But now that Silk's relatives are getting edgier about the film, suddenly everyone is claiming it is not a biopic at all – even if the central character is named Silk. This one line set the tone for everything Tusshar had to say after that – whether it was about his role, his career, his sister Ekta or his love life.
"It was Milan (Luthria, the director) and not Ekta who offered me the role. I didn't even speak to Ekta till I said yes to Milan. It's been all matter-of-fact. I didn't have much interaction with her on this." The biggest film you have in hand right now is your sister's film, and you didn't even talk to her about it?
"Vidya looks really hot in the movie. She's got something about her, but I was not attracted to her. We've moved beyond that. She's a very rooted, typically classic Indian girl. We had a lot of fun, but there were no sparks." Any guesses why?
"I am not dating Radhika Apte. That was just Ekta pulling my leg." Oh really?
"Emraan (Hashmi) and I are pretty chilled out. We had done Good Boy Bad Boy earlier. He doesn't have that competitive vibe." He doesn't need to. A film with Emraan as the solo hero works better than a film with you as the solo hero.
"A sequel should not be made to The Dirty Picture. You can't make a sequel to a film made from the heart." So, Kyaa Kool Hain Hum was not made from the heart? That's why Kya Super Kool Hain Hum?
"I like to do films of all genres, so long as the people I am working with are nice." Take what you get. Good plan.
"Awards are not of much significance to me. Whether I win or not, it doesn't matter. It's fine if my next win is only the Lifetime Achievement award." Ah, so you know that you are not likely to win anything before that.
"I've never had to struggle for films. The audience has accepted me." Yes. That's why they list Gayab (where you play an invisible man) as their favourite Tusshar Kapoor film.
Do we need to know any more?