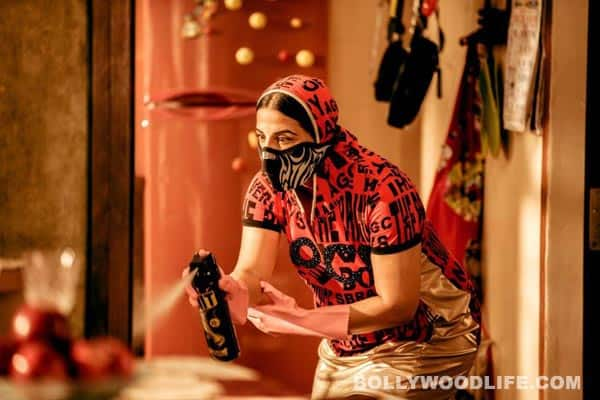 In her forthcoming film, the talented actor will be seen going for the kill, literally. Take a look!
Vidya Balan is playing a Punjabi housewife in Raj Kumar Gupta's upcoming movie, Ghanchakkar, and Emraan Hashmi will be playing Balan's Maharashtrian husband. We hear that the movie will be a sweet slice of life take on various quirky marital issues. In fact, Vidya's character, her look and her costumes speak a lot about her hatke character.
Aptly called Ghanchakkar, this venture will see Vidya doing something absolutely crazy and go completely mad. Look at this picture for instance. In this still, we see Vidya in the most outlandish costume we've ever seen her in. Wearing those thick rubber gloves and covering her mouth partially, the gal is equipped with an insect spray, but the serious expression on her face suggests that she is afraid of the pests. Or is there something more than meets the eye? Will the Kahaani be completely different? Only Vidya can tell us!