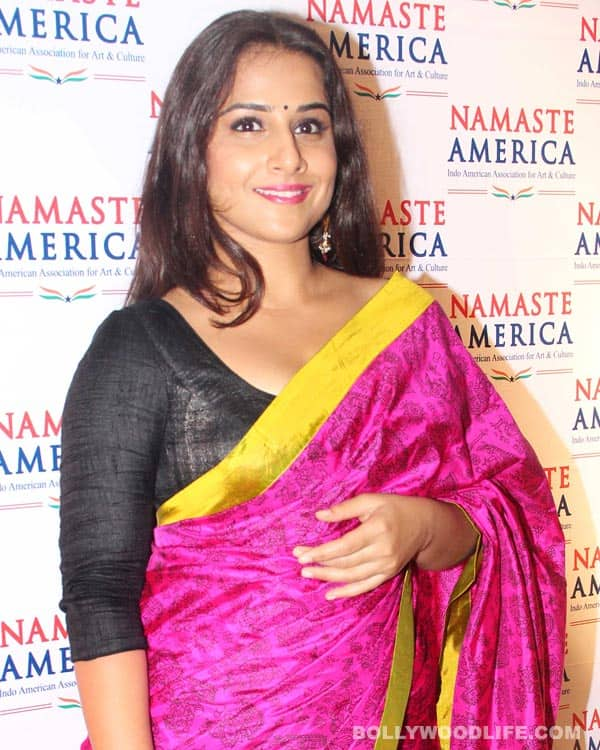 The 'Lady Khan' Vidya Balan won many accolades for essaying a bold but liberating role in The Dirty Picture. But when it came to facing Daddy dearest's comments on it the gutsy actor didn't know where to look
Namaste America, an Indo-American Association for Art and Culture that was founded by Atul Nishar and his wife, Dr Alka Nishar hosted an event to felicitate Vidya Balan for her contribution to Indian cinema on the evening of June 2, 2012 at Hotel Trident in Nariman Point, Mumbai. And during this event Vidya's father, PN Balan, who had accompanied her to the do, was called on stage to share his views on The Dirty Picture. And that was when Vidya dearest covered her face! But we totally understand. After all, acting bold in front of parents does get a li'l awkward, no?
Little did Ms Balan know that she was in for a delightful surprise. When Papa Balan came on stage to share his views he was all praise for his darling daughter! Reminiscing about the time when he first saw TDP, Mr Balan said that he had messaged her saying, "I am really proud of you, Vidya, and I did not find the movie vulgar at all. You are a brilliant actress and a new star will be born after The Dirty Picture." Awwww! And Daddy's prediction actually turned out to be true!
Other celebs who attended the event included Michael Mullins, Neeraj Bajaj, Dr Alka Nishar, Habil Khorakiwala, Tabu and Richard Rothman, Sunita Menon, Satish Shah, Reena and Ashok Wadhwa, Aditi Govitrikar, Rashmi Uday Singh, Ananya Dutta, Bharat Dabholkar, Lillete Dubey, Lata Patel, Neeta Lulla and Nishka Lulla.