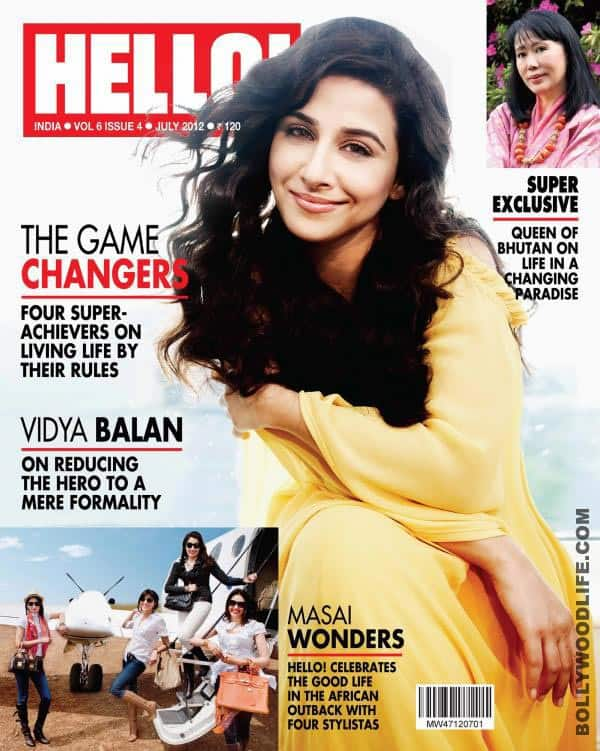 Instead of stepping up with her hot, bold and dirty image, Vidya Balan decides to dish out a highly uninteresting cover for Hello! magazine
Lusterless, lazy and laidback to the point of being dull, this cover shot has brought Vidya Balan back to square one. And the Kahaani actor is not new to receiving brickbats for her incoherent dressing sensibilities and her weird style sense. She has even been awarded the infamous Kela Award for her fashion awareness…or lack of it. But in the recent past, with successful films like Paa, The Dirty Picture and Kahaani to her credit, the versatile actor did show off signs of huge improvement on the fashion front as well.
Though we have spotted Vidya mostly in long-pallu, heavy saris recently, she almost always dresses according to her body type. Some even thought that the 34-year-old had started giving serious thought to her sartorial sense. And now Vidya has proved everyone wrong and turned hopeful assumptions inside out. Just look at this cover and you will know what are we talking about.Vidya strikes an uninspiring pose in a dull yellow outfit that looks like a chador or a tent. Her hair is unkempt, the look on her face is unexciting and the mood so blah! We think it's a high time for Vidya to change her stylist…again.